During the second night of protest against the death of Keith Scott, who was 43-year old. Keith Scott was shot by the police because he was carrying a gun with him and when police ordered him to drop that gun, he just ignored. This statement has been stated by the police, but the details of his death are not clear yet.
Police has drawn a different picture of Keith as a criminal who had been in the prison of Texas for several years, but his family members had said that he was innocent and did not have any criminal charges. The Family has watched the deadly shooting video of Keith in which it is clear that he is innocent and when relatives asked the police to show it in public, the city police chef just refused. Even the relatives had said that Keith was not carrying any gun with him, instead he was carrying a book in his hands. This incident spread like a fire in the mind of crowd.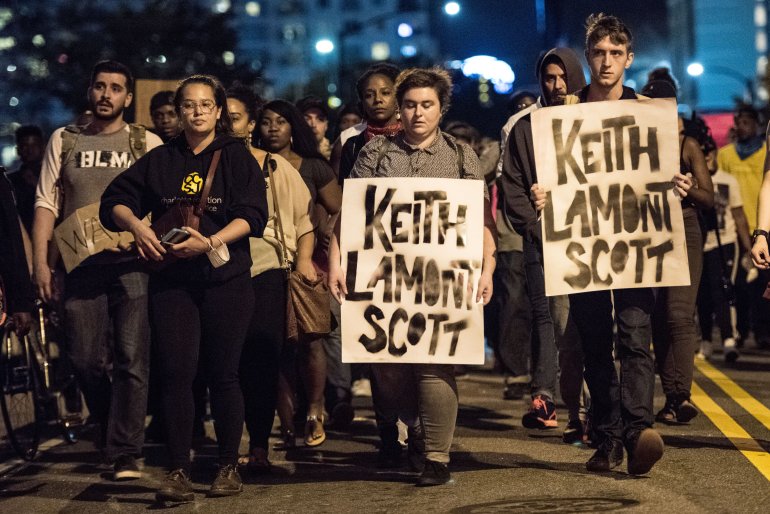 After this incident, North Carolina Gov. Pat McCory alarmed emergency in the state and gave sympathy to the crowd that he would make efforts to stop this violence. The news is available everywhere in US Newspapers.
But still, a number of people came together in central Charlotte with holding banners and shouting that they want to see the shooting video. Governor said in his statement that any kind of violence to citizens, police officers or towards the government property cannot be tolerable but nothing has been done so far for this.
According to Us news, around 36 protesters tried blocking the traffic on the I-277 late night on Wednesday. During the protest for watching shooting video of Scott, a man who was only 26 years old named as Justin Carr was injured in the civilian on civilian accident as stated by police on Wednesday night. He was immediately taken to the hospital located in that area and found to be in a critical health situation. But a person who was standing nearby named as Jimmy Tyson Carr said a different statement that he was injured when cops started firing rubber bullets in the public.
Not only one civilian got injured, but four officers were also injured and taken to the hospital. Public transportation services were shut down by the government on Thursday morning so that people could stay at Home only. Protestors had said that few people were suspended for capturing cops on the camera while they left Eric Garner in bad condition including Ramsey Orta. The news is spreading like a fire everywhere on World Newspapers. For more updates on the incident, keep reading more details on US newspapers.