Have you ever been a project manager? I bet you have. Even if it is not your job title we all have our own life projects to realize. Just like the outcome of your own project can have a lifelong impact, the success or failure of any project at work can turn out to be defining for the company's future. And the responsibility lies with the project managers. Their ability to learn and grow into real professionals is crucial for any company. So choosing the right LMS and building the right eLearning program should be treated as another company's project that will turn into a significant investment into company's future.
If there is anything you should know about project managers and how they should be trained it's that they have to be specialists in nearly everything to succeed. Project management is a unique area, where one has to see the whole picture and at the same time understand how the mechanism works in details. That is why project management training is a bit different from any other corporate learning program.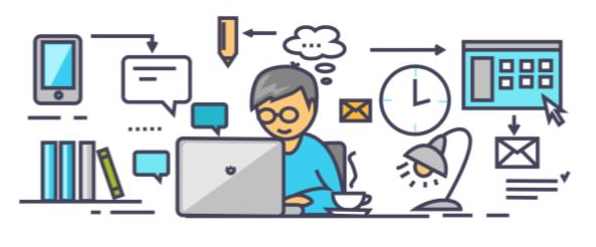 Any project manager should have a good handle of both organizational skills and the functions of all the departments involved in the project. Moreover they should be quite clued-up about the industry in which the company operates. The training programs for project managers should be organized in accordance with this peculiar trait of the job. The skillset should be very broad and very specific at the same time.
Developing an eLearning program for project managers, try to separate the three above-mentioned topics drilling each of them until they are mastered enough to start learning how to combine them in one project. That is to say, managers get to study a set of video courses and presentations on the organizational skills such as time-management, multi-tasking, leadership, planning, meeting management, etc. Then they pass a number of organizational skills training courses to make sure they will not have any troubles with this kind of task in future. Then they cram the same way the key needed aspects of the work of other departments (finance, marketing, etc.). Finally the managers get a set of courses on the industry of the company to be familiar with core historical data, key required terminology and recent changes on the market.
Once all the three subjects have been studied and trained it is time to see how they all work together. The managers pass a project management online course in a form of a business case or online simulation that imitates a real-life business situation. So they need to recall all the skills in three study areas they have learnt and figure out how to use them in practice to resolve the business case. The business case can be mixed with offline challenges. Blended learning will allow project managers to exchange experience and receive necessary mentorship to cover possible gaps and potential questions that may turn up.
So your project managers have completed the eLearning program carefully following the above-described steps. What's then? Then they turn into a priceless long-term asset of your company. Mostly all everyday tasks the employees encounter are a part of some project. And if you have in you company project experts who can manage them handling easily a whole set of tasks, they will certainly be able to see through a project that may become determinative in company's success.