If you are walking through the mall or shopping complex, you will get to see many people wearing your apparels. Yoga wear has become the latest fashion statement of the youth of America. No matter whether they are interested in performing yoga but they use to wear yoga clothes, and the reason is simple they love to wear it. They feel comfortable in it. People are not supposed to know about the yoga positions neither they are interested in Google it. They just want to know the news related to the latest yoga clothes or designs that have come out. They are googling and checking out the latest trends.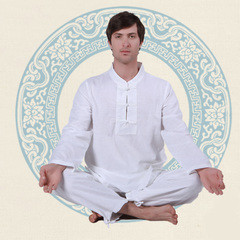 Men, women, children, old people, young kids everyone wears yoga not only while performing yoga but also while working out in the gym and during their routine training sessions. According to almost all style experts and professional trainers, yoga pants are the perfect alternative for sweat pants. Leggings are one of the substitutes for sweat pants, but women prefer yoga pants over them due to the comfort level yoga pants offers. There are endless reasons why yoga pants are best sweatpants. Some of them are they are perfect for almost all body types; they are the happy medium; you can dress them up or down.
Consumers drawn to the th comfort and flexibility of yoga wears because of its latest craze among fashionistas. There are many seller of yoga clothes which not only offer great quality apparels but also offers the quality product. Some of the online portals sell handmade yoga wears made up of green materials such as soy and hemp. These wears evoke a sense of well-being and athleticism among people who wear it.
You can also see various celebrities wearing yoga wears while gyming and while working out sessions. This is inspiring various Facebook groups, twitters and blogs that you can see. All photographed in yoga gear.
Not just this, few celebrities like Kate Hudson, Alexander Wang, Gwyneth Paltrow even launched a collection of yoga apparels. Alexander Wang's workout apparel hit the floors at H&M. Gwenyth Paltrow has a collection with Beyond Yoga. Kate Hudson launched Fabletics earlier this year.
There so many clothing brands who has also started manufacturing yoga clothes due its growing demand and with the view to offer street wear appropriate workout wear. They are launching various clothing lines under it. Shortly there are also going to start expanding the lineup launching different varieties of yoga working out gears.
Whether you are a high-end fashion junkie or a budget retailer, this is the time you need to own at least a few yoga apparel for you or if you find them a better option then some in your collection. The most amazing thing about the yoga apparels is that they are going to sustain in the fashion world for long. Either you are a man or a woman you can easily simplify your wardrobe with more and more pieces that have multiple uses like yoga wears.