We all know how a standard wedding reception goes: you have your cocktail hour, then dinner, and then you roll out the dance floor so your guests can boogie the night away. At least, that's the traditional way. But on this blog, we're all about encouraging you to buck tradition if it doesn't suit your style as a couple. So if you aren't one to cut a rug, we're here to tell you that you don't have to dance at your reception if you don't want to. Here are some things to consider when you're having a non-dancing reception.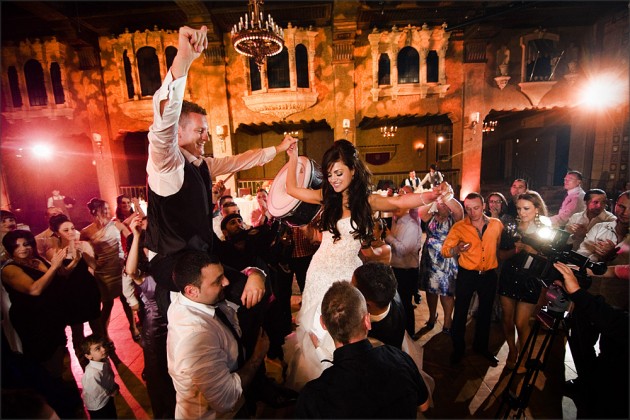 Keep the music mellow and soft: If you don't want an impromptu dance party to break out, keep the music low-key. You'll still want to have some music playing, even if it's not for dancing. No one wants to sit in a quiet room and stare at each other. Just keep the music at a low level to encourage conversation.
Find a venue with a hang-out vibe: One of the reasons that guests fill the dance floor is to get out of the uncomfortable folding chairs they've been sitting in at the reception. If you'd like to keep people seated and talking, find a venue that has plenty of comfortable chairs and couches for lounging.
Break out the games: Odds are, some of your guests are meeting each other for the first time at your wedding. You can engage your guests and avoid awkward silences by providing games for them to play. Use board games for your centerpieces, and watch the fun break out.
Lawn games: Having an afternoon reception is a sure-fire way to throw a great party without having to deal with the dance floor. Break out the bocce, croquet, volleyball, badminton, and horseshoes, and run tournaments with prizes for the winners. It's a fine way to while away an afternoon with your friends and family.
Have a karaoke reception: If you'd rather sing than dance, consider hiring a karaoke host for an evening of belting out tunes with your friends and family. Some performances might be painful, depending on the guests' level of inebriation, but it'll be a blast for everyone involved.
Have a movie night: For a summer wedding, a more chill reception could be relaxing under the stars to watch movies. Rent an inflatable screen, projector, and popcorn maker and show some of the wedding couple's favorite films.
Go for an activity: For a lively reception without dancing, you can add some fun activities or pick a venue that has a different activity for everyone to try. For instance, you can pick up some sparklers for weddings for everyone to enjoy or other small wedding favors to make the reception more entertaining. You can go for a bowling alley (just don't get lane oil on the rented tuxes), a skating rink (have you been skating since you were old enough to drink? It's a completely different experience), or even Laser Tag. Nothing says, "Just Married" like fragging your new spouse from deep cover.
Don't get us wrong: you can dance if you want to. But if your friends don't dance, and you're not into cutting a rug yourself, there are plenty of ways to have a great reception with no move-busting involved.