Concept of curved display smartphones is not new and it experimented in near past too, and most recent device of such display is Samsung Galaxy Note Edge. The device is targeted to high-end market as it is powered with the most advanced hardware configuration.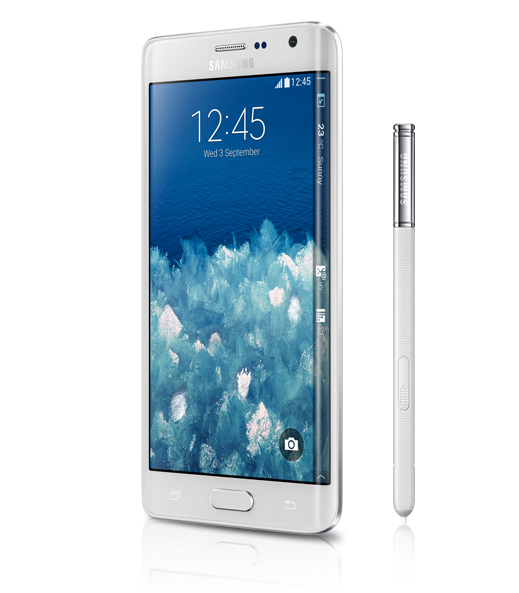 Galaxy Note Edge is similar to Galaxy Note 4 in the hardware but there exists a few changes. In addition to display, you would find the noticeable changes like key lock moved to the upper bound on the right, it is connected with a bend at the last; battery capacity slightly decreased – from 3220 mAh to 3000 mAh; as well as in our Edge installed processor from Qualcomm – Snapdragon 805 (4 cores at 2.7 GHz), working together with Adreno 420 graphics.
There is another version of Galaxy Note Edge is also available with Samsung – Exynos 5 Octa 5433 (quad-core Cortex-A57, 1.9 GHz & quad-core Cortex-A53, 1.3 GHz) with graphics Mali T760. Other than that, everything is the same 3 GB of RAM, 32 built-in, expandable, two cameras, a 3.7 megapixel and 16, which make great shots, elegant electronic stylus S-Pen, Android 4.4.4 and a lot of proprietary software.
Specifications:
Dimensions: 151.3 x 82.4 x 8.3 mm.
Weight: 174 g
Operating System: Android 4.4.4 KitKat.
Processor: Exynos 5 Octa 5433 or Qualcomm Snapdragon 805
Graphics: Mali-T760 / Adreno 420
Display: Super AMOLED, 5.6″, 2560 × 1600 pixels, 525 ppi
Memory: 32 GB of flash, extension with memory card micro SD.
RAM: 3 GB.
Camera: main – 16 MP, video recording in 1080p, the front – 3.7 MP
Wireless Technology: Wi-Fi, Bluetooth 4,1, infrared
Interface connectors: 3.5mm headphone jack, Micro USB 2.0
Battery: Li-Pol battery of 3000 mAh
However, the main difference between the two Galaxy Note Edge and Note 4 – is display. Samsung Galaxy Note Edge is one of the few devices with a curved screen and right edge of the display immediately catches the eye. And it looks interesting, pay attention to everything.
Technically, here we have one display, the right part of which is bent. Software, the whole interface is divided into two zones: the main screen has a diagonal of 5.6″ and resolution 2560 x 1440 pixels and sideband, its resolution is 2560 x 160 points. This is enough to place a column of icons, scrolling and other useful information.
In the settings there is a separate item that is responsible for setting the lateral line. It can be customized and configured for convenient use. Standard functionality allows you to: Select the display line (favorite applications, news, weather, sports and even small game), set some of them (the source of the news, choose the application displayed), change their location and even download new ones from the store Samsung.
The latter is especially nice, it is likely that over time will catch up and third-party developers. If this happens, use of the line at the end will be much greater. For example, it is possible to derive additional elements in demanding games (e.g. – strategies), and sub-tabs.
Galaxy Note Edge is revolutionary because of its display and we hope to see something revolutionary in the original Samsung Galaxy Note 5 too.