You may have children reaching that age when they want more people and extra sources of entertainment at their birthday parties. As a parent, knowing ahead of time what you'll need to start off your planning strong is key.
You'll find a variety of ways to create a fun birthday party for your child. They include providing food to keep guests satisfied, controlling how many people are invited, and keeping everyone entertained. Here is how to make your child's birthday party awesome.
Create a guest list
The best part of a birthday party is being able to spend time with friends and family. While having dozens of people over may sound like a great time, and it might be, an occasion such as a birthday party may only be able to handle the presence of so many individuals. This is especially true when it is a child's party.
We recommend limiting the people you invite to close friends and relatives, between six and 12 people. This will make it easier to figure out what everyone likes to do for fun, thus helping you figure out your budget for what you want to set up for games. Your kid will also have an easy time dedicating attention to every playmate.
Pick a theme
Knowing what your child's interests are goes a long way for making the birthday party a great time. Children can be huge superhero fans, and they might have friends just as into it. So decorate your house with posters and photos of Superman, Spider-Man, Wonder Woman, and Black Panther. Having costumes on hand will allow them to imagine being a favorite hero.
Other possible themes include sports, which could involve setting up small baseball fields with plastic bats and balls or a small basketball hoop for kids to do some slam dunks, or movies where kids can dress up as their favorite characters. An animal-themed party can provide costumes for bears, tigers, and gorillas so that kids can dress up as their favorite beasts.
Include artwork
The environment you have will determine how welcome guests will feel at the party, and one way you create a fun and light setting for the occasion is through artwork. This can include paintings and drawings that you make, your children make, or those you work on together. It's a good idea to watch tutorials online in case you and your child enjoy artwork but are new to the game.
You may also benefit from asking your kids what kind of art they work on at school so that you have an idea of how to set up your party. The kids may also have fun if they are given the chance to create their own artwork so that you have time to prepare the lunches and dessert.
Serve the right food
Picking the right lunches or dinners, depending on when the birthday is being held during the day, is important if you want everyone to leave satisfied. You can include hamburgers, heroes and pizza not only for the kids, but also the parents who stay over. It's important, however, to figure out whether anyone has specific allergies so that they don't end up eating the wrong thing.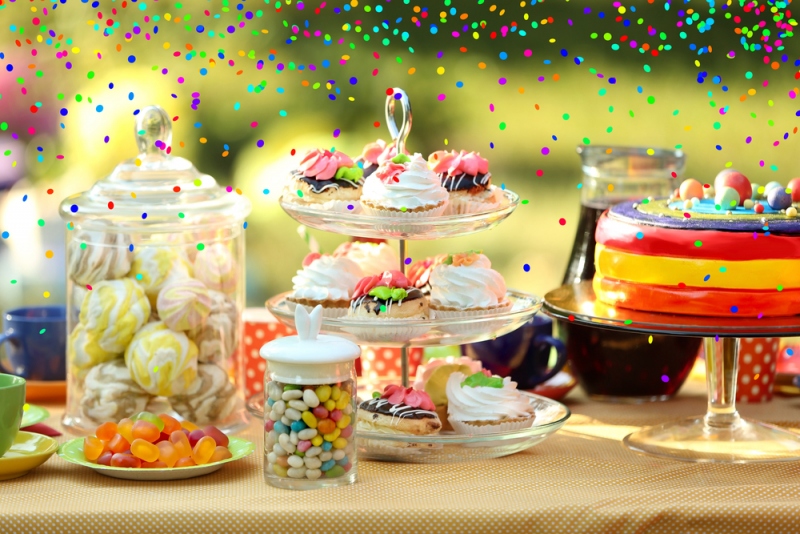 You'll have plenty of options to follow up with dessert, including the traditional dishes such as cake, ice cream, cupcakes, and cookies, as well as unique additions such as cheesecake, brownies, and doughnuts. You'll also want to send all of your kid's friends home with goodie bags so that they have a small snack to enjoy after the party.
Provide entertainment
The chances of your kid's friends coming over your house again for birthday parties in the future will depend on the sources of fun that you provide. As we mentioned before, you can include plastic baseball bats and basketball hoops if the kids are into sports. You can also plan a scavenger hunt, which provide a miniature adventure and the chance for the kids to work on their team-building and problem-solving skills.
Plenty of bounce house rentals NY will keep the kids busy while you tend to the food and goodie bags. If you have the chance, find bounce houses that can come in unusual shapes, such as obstacle courses, in case you've had them at your house before.
Keep these tips in mind so that your child's big birthday party is a blast.