Air conditioners are essential during the cold period. You need to ensure that your apparatus is in excellent condition even before winter begins. Additionally, proper maintenance of your air conditioner will boost its durability. Below are a few tips to get your equipment ready for winter.
Have It Inspected
You should make sure that your air conditioning system gets checked before winter. Identifying whether it has a problem early will avoid costly repairs in the future. Even if you suspect that your air conditioning system doesn't have any issues, it is essential to have it inspected and serviced at least once or twice per year. At times, it may accumulate dirt on the coils and air filters. Numerous companies offer discounts if you sign up for annual maintenance and repair services.
Cover the Compressor
The compressor gets dirty due to different weather conditions throughout the year. It gets filled with leaves, bugs, animal droppings, and branches. You ought to get rid of any debris on the outside unit and trim trees around your house so that they cannot cause any obstruction. You should use the right cleaning equipment to brush off the debris. Proper cleaning helps in the prevention of rust and clogging during winter. When you get done with the cleaning of your air conditioner, you should cover the compressor with a plastic or vinyl protector to prevent contamination. Remember to remove the covering before turning on the air conditioner.
Change Air Filter
For proper circulation of air, nothing should be blocking the air supply to the vents. You can easily forget to change the air filter during winter if you don't use your air conditioner often. You should replace it after one or two months if you use it on a regular basis for efficient supply of cold and warm air. However, if you don't use it quite often, you can replace after three months.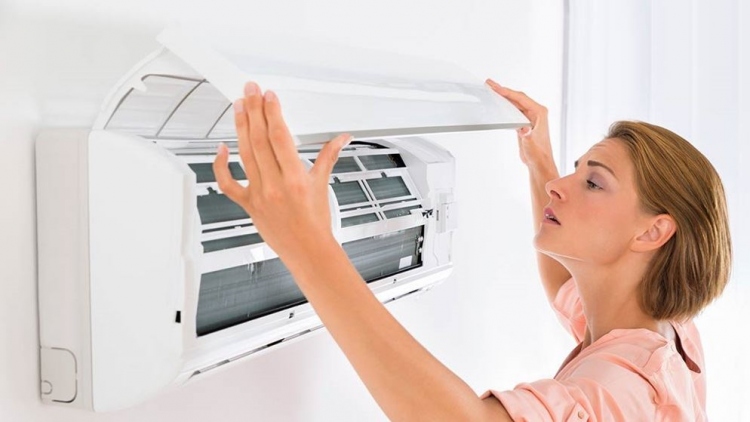 Change the Thermostat Settings
You need to consider installing a programmable thermostat to minimize your energy costs. A thermostat functions by turning off the air conditioning system when it reaches the set temperatures. It is advisable to remember to change the settings during winter to reduce cold air and save on energy. Alternatively, you can switch to manual mode to adjust the temperatures depending on the changing weather conditions. You should ensure that everyone in the house is comfortable with the temperature levels.
Avoid Big Temperature Changes
There are times when there are mild temperatures at night during winter. This time you can open the windows for ventilation. However, during cold nights, opening windows would make the air conditioner to work harder. Consider using ceiling fans rather than opening the windows on cold nights and warm days. This way, you will be able to maintain constant temperatures for your comfort and to avoid overworking your air conditioner.
Conclusively, your air conditioner in your house should have an appropriate size and shape. If it is too big, it will keep switching on and off because the heating and cooling periods will be short. On the other hand, if it is too small it will work for a long time to provide appropriate temperature. When shopping for an air conditioner, you should visit reputable dealers in your locality and buy high-quality items that will last for long without getting damaged.
AC Masters of Mesa, AZ was founded on the principle of providing Phoenix area residents and businesses the highest level of service at affordable rates.