Aran sweater is a timeless classic sweater which originated from Ireland. The sweaters grew to fame mid last century and are now worn all over the world. The traditional stitches blended with modern design makes the Aran sweaters a perfect choice to keep cold pangs at bay. Though commonly adorned during winter and fall, the trendy sweaters can be worn all year round for maximum comfort.
History
Aran sweaters have its origins in western Ireland at the Aran Islands. Initially, it was an exclusive fishermen wear. Irish women would knit it for their males to keep them warm during their fishing expeditions.
The sweaters became popular when they were featured in the US magazine 'The Vogue' in 1950s, and the subsequent use by film stars. This created a world-wide demand for the little known Irish sweaters. Ever since, knitters at the Aran Island have been very busy.
Fabric
Traditionally, Aran sweaters were made from pure merino sheep wool. In modern times, the wool has been blended with cotton, silk and linen. The blend has enhanced its appeal without compromising the quality.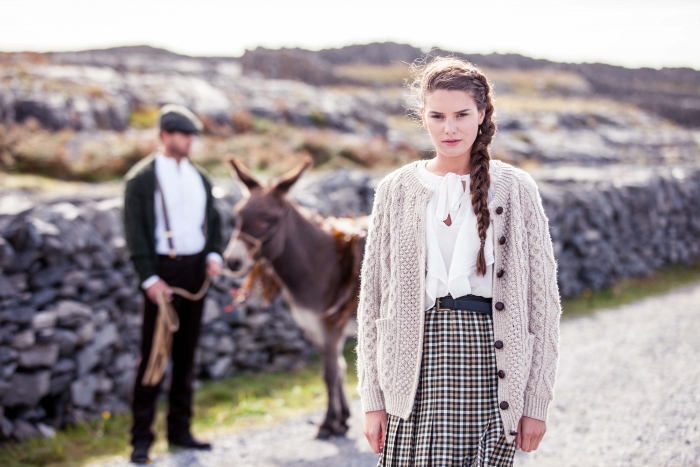 How it is made
Aran sweaters are either machine-knit, hand-knit or hand-loomed. Hand-knit sweaters have well defined great looking patterns as they are knit from heavier yarn and tightly knit. And hand knitting brings out complex designs a machine cannot knit. They are durable and maintain good shape for long. All this quality comes a greater cost.
Hand loomed sweaters are similar in appearance to hand-knit sweaters but have lighter yarns and less definitive of the patterns. The light fabric is a result of blending the wool with other materials. The sweaters are made using a loom. The person operating the loom can make some adjustments in the stitches making beautiful patterns and quality sweaters. They are priced lower than hand-made but higher than machine-made sweaters.
Other Aran sweaters are purely machine made. They tend to be of a lower quality and the lowest priced. The lower quality of wool which is often blended with other yarns result in thinner sweaters with a flat texture. Therefore, such tend to be less durable.
Make your pick wisely.
Taking good care of Aran sweaters
The wool which forms a major part of the fabric that makes Aran sweaters is sensitive and should be taken good care of. Every sweater comes with a tag that contains instructions of how the sweater should be take care of. Read and adhere to the instructions.
Generally, hand washing is recommended for woolen products. Wash in cold or warm water and use only wool-friendly detergents. After washing, do not wring. That may distort the shape. Simply wrap the sweater in a towel and roll it allowing the towel to draw water out of the sweater. Then dry it on a flat mesh-like surface. Do not hang the sweater, it will stretch and loose shape. Also, never dry the sweater in a dryer.
When the sweater dries up well, store it in a cool dry bag. It's not advisable to store the sweater hanging, slowly but surely it stretches and next time you wear it it will look bigger.
Meaning to the designs
The designs on the Aran sweater are not just there for aesthetics, they have meanings, hidden meaning. The honeycomb talks of being industrious, the cable a tribute to Irish esteemed fishermen, the basket fruitfulness/ plenty and the diamond a symbol of wealth and success.
Florin A. is an Online Advertising professional and article writer who likes to research the most recent trends in business, technology and marketing communications and writes about a range of articles.