Do you have a pampered princess ready to spoil with a bedroom makeover? As children grow with the years it is essential to keep their minds occupied, even if it means completely re decorating their bedrooms to suit their favourite mythical theme. To create a perfect space for your child to chill out and entertain themselves. For example completely transforming their bedrooms into a magical unicorn den. Of course a place for them to not only sleep but to run wild with their imaginations, instead of in the living room whilst the soaps are on.
The first steps in creating the bedroom of your child's dreams is to give the walls a lick of paint, perhaps a feature wall covered in silver glitter paint, and a colour scheme of baby pinks and pastel blues to follow the theoretical image of a unicorn. Even sticking unicorn inspired wall stickers on the plain walls would also add extra magic to the new bedroom. However the colour scheme would be one of the most important in tying the whole bedroom together and maintaining a mystical magical theme, and of course who doesn't love a bit of glitter.
Simplicity within the furniture would really focus all of your child's attention on playing with their toys rather than climbing the furniture, so using white drawers and wardrobes etc., keeps up the modern atmosphere within the bedroom and can be styled up with soft toys or placing small picture frames that are bursting with colour on floating shelves to add more magic to the room.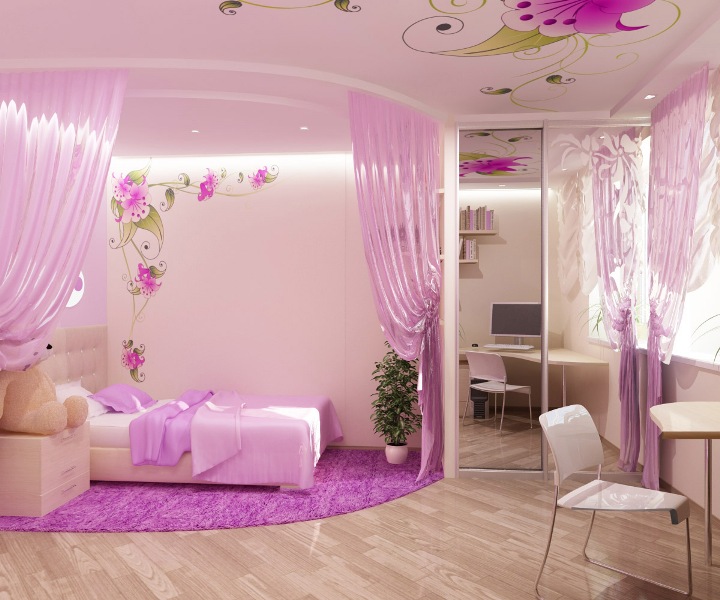 Also using a high bunk bed in the bedroom with an open base, not only saves space it also allows the underneath to be used for storage or even putting a princess tent in for even more enjoyment. To perhaps maintain a magical theme but a grown up version, adding a desk with multi-coloured accessories such as pens and notepads might not only turn the bedroom into a room of play but also a place where homework can be done, maybe even without eyes being rolled.
The last step in creating the perfect makeover for your child's bedroom is the accessories, like bedding, curtains and even soft unicorn fluffy toys. Go crazy with the accessories; they bring the whole room to life! Unicorn styled bedding should be an essential purchase, perhaps pink curtains and lampshades to let the light bring in an iridescent pink sparkle. Hang some floral fairy lights along floating shelves and around the windows, making the night still sparkle along with the amazing feature wall.
Making the bedroom also as cosy as possible with coloured blankets makes the new space perfect for sleepovers and play dates. You could even let your children get stuck in to create perfect unicorn inspired crafts such as banners made out of coloured card and string, or posters to make the makeover process enjoyable for you and the children. That's all the finishing touches to your child's new space, now just to watch them love it!
That's how to create the perfect bedroom makeover for your little princess in a few steps!
This article was written by Chloe Kilburn, a Yorkshire lass who wonders why the world isn't much more sparkly.