Zipping on a two wheeler on a nice sunny day while the rest of the world languishes in heavy traffic is one of the main reasons that this mode of transport is regarded as most convenient. Road conditions, however, can have a severe impact on the way one rides and when the monsoons come, riding a two-wheeler becomes an inconvenient, sometimes dangerous affair without any protection from the elements. Reaching the destination drenched to the bone is not an ideal situation, and all this after having negotiated hazards like wet, slippery roads and invisible potholes. For the monsoons, the best way to travel is the safety and warmth of a car, with no worries of damaged electronics due to rain. Buying a car just for the season is probably an impractical solution, and the option of cabsis plagued with unavailability and surge-pricing. Hopping into a rental car and self- driving is the safest way to go about in the monsoon.
Negotiating Bangalore
Bangalore is a city that is bursting at the seams, and the traffic situation is worst during the rainy season. By choosing self drive cars in Bangalore, one avoids the mess of handling a scooter or bike on muddy roads. While transporting children and family members around the city, two-wheelers are a bad choice during monsoon. Rental cars offer a safe mode of travel along with privacy.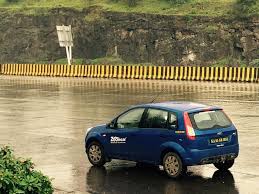 Monsoon Excursions
Adventure seekers can also join the party by picking up a rental car and driving off to one of many monsoon destinations around Bangalore city and surrounding districts. There are many vehicle options for those looking for a self drive car for rent.  Drive a fancy SUV or a reliable sedan to popular weekend spots. Features like all-India permits, basic insurance and 24/7 on-road support now make car rentals the prudent choice for those seeking the best ride without long term commitments.
Affordable Rides, No Compromises
Modern car rentals like Zoomcar are offering customised commute plans which Bangaloreans can take advantage of and sort out their daily transit woes. Car-pooling adds another cost saving element, and all this while dodging the rains. When the privileges of car ownership are available at very affordable prices with the simple tap of a smartphone app, it is difficult to imagine why a smart customer would choose a two-wheeler ride over a car rental during the messy monsoons.
Rashed Ahmed regularly contributes to lifestyle magazine online and living ideas to various blogs around the web. When he's not busy working with the work, you will find him undertaking many of her own lifestyle-related topics and living ideas! He has a lot of dreams. He works hard to fulfill his dreams. He loves to share his ideas, tricks, tips, and information by blogging. He also works at innovative business ideas, a business marketing company that committed to helping businesses with online marketing.