There are many different materials that you can use in the building of your kitchen to make it look extremely stylish. However, will they be able to withstand the workload that comes with the kitchen use? Here are five of the strongest stone based materials you can use to build your worktops-
The homes and interior designs that you find in today's world have changed a lot from the traditional style of homes. While some elements are still prevalent, people have begun to explore different themes and ways to make their home look unique and truly capture the essence of their personalities.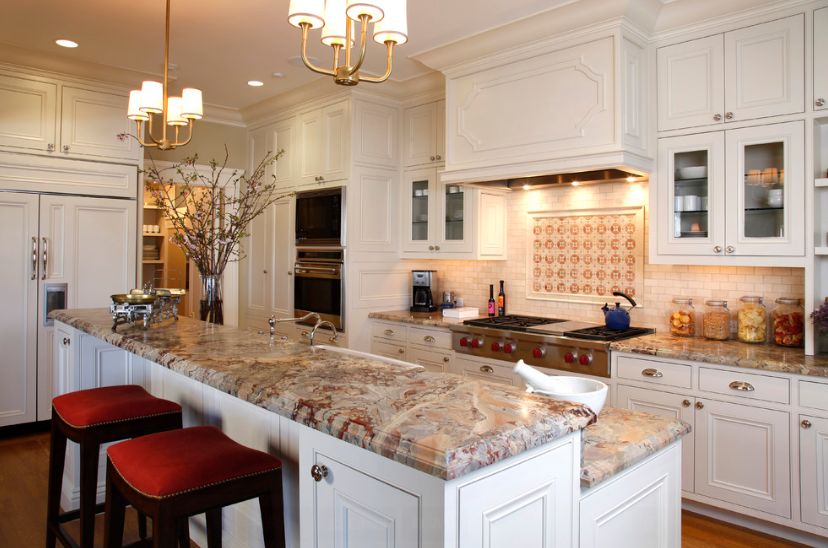 One of the most popular ways that this is done is through the use of materials that surround your home and rooms. While kitchens have always been looked onto as a traditional and safe space, many are looking to give it a stylish makeover, and this always starts with the counter tops that you are going to choose. The worktops you choose would depend on the kind of kitchen you want; strong and stylish natural stones have become a very popular choice.
From the strongest to the softest, here are the five strongest materials that are normally used to create the worktops:
1. Quartzite
As a metamorphic rock, quartzite is extremely hard and cannot be changed through water or acid, making it a great option for a kitchen worktop. Being harder than glass, its physical properties are very high. Along with its strength, it looks as clean as a marble and even with impurities, the colour and patterns sets it apart from the rest, making it one of the most popular stones. It can stand the wear and tear that comes with being placed in a kitchen, better than any other stone.
2. Engineered Quartz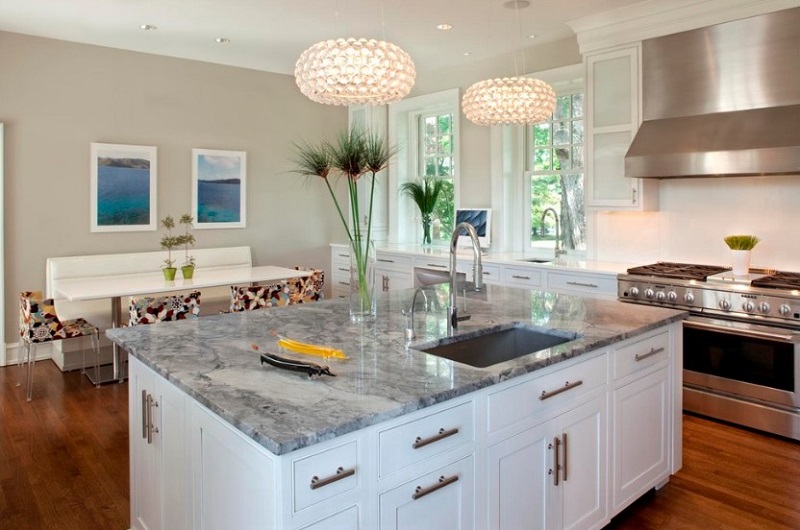 This is also a very hard stone that is non-porous. This makes it a great addition to the kitchen because you do not have to deal with any of the juices, acids or liquids that you work with to stain the countertop. Along with that, it is easy to clean and maintain, does not break or even chip easily and it cannot be a host for any bacteria or moss. Since it is manufactured, you can get it in many colours, sizes, and richness!
3. Granite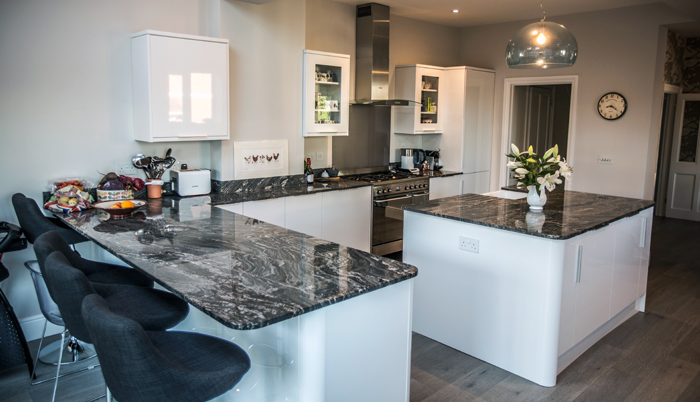 Being a popular stone, it makes a great addition to the kitchen. Granite stones are formed by heat and pressure, so this means that you don't have to worry about the heat of the pan running the stone. It also does not play host to bacteria and dirt which makes it very easy to clean and take care of. Made with natural rock, granite countertops give a very clean and rich finish to your kitchen.
4. Marble
Coming in various colours, patterns and forms, marble countertops are very popular. While they are heat resistant and quite strong, there is always the problem of staining that is related with them, so you need to be very careful and clean the countertops thoroughly. They can withstand wear and tear throughout many years, and the colours and patterns are breath-taking.
5. Limestone
This is a very popular stone because of its close resemblance to marble. While it is a natural rock and can add a lot of value to your home, limestones are very popular in kitchens as well as bathrooms. They are quite strong and can withstand wear and tear, but compared to the other rocks on the list; it is surely the softest stone. Limestone tends to scratch easily and get discoloured if they are not taken care of well.
With so many choices, you can certainly find the right worktop for your kitchen and give it a stylish upgrade!