Fashion is a thing everyone likes. But there are some fashion hacks in fashion world that are very useful. They can be implemented to make our life useful. In the fashion world there are many hacks that can help us in our tricky situations. Here are 8 fashion hacks that you need to know to make your life easy.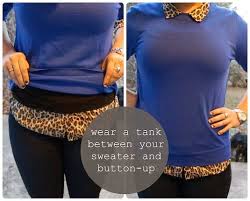 Tuck and Fold Your Jeans:
It will look fabulous if we wear boots with jeans. Skinny jeans are perfect for cold days when you want them to wear with your boots. But what you should do if you don't have a pair of skinny jeans? You can simply fold and tuck your normal jeans. You can use rubber band to secure the fold nicely.
No More Open Flies:
It is very bad to walk around with your fly open. You can prevent fly from opening by attaching a key rind to the zipper and then hooking it with jeans' button. If you do not have any key ring, you can try using a thick rubber band but there are chances that it might snap.
Runaway Buttons:
If a button has come out of your shirt and you do not have time to stitch it then the best thing that you can do is to swipe clear nail polish on the button. It becomes sturdy when it gets dry and it will not fall off too soon. This trick is very helpful for people who do not like sewing and it is quite simple and easy too.
Save Boots:
If you have large collection of boots and most of the pairs are just lying here and there from months or even years, than try to insert pool noodles in them, in order to retain their shape. If you cannot find any pool noodles, you can use empty toilet paper rolls. Just roll the paper and glue together until it become equal to the height of your boots. By doing this, you will save your shoes as well as your environment by recycling the toilet paper rolls. If you do not have toilet paper roll then you can use anything such as baking sheets, empty boxes of aluminum foil etc.
Slip-Free Hangers:
All types of hangers are not same. Some of them are flimsy while others are sturdy. The flimsy hangers cannot do their job well. They are incapable to keep clothes hung on them. You should get rubber sleeves and then attach them to your hangers by hot gluing their ends. They will become sturdy.
Hair Iron for Sleeves, Collars and Cuffs:
The sleeves, collars and cuffs are tricky to handle while ironing. You can use your hair iron for ironing your clothes at last minute. You need be careful that your hair iron is not that much hot or else your cloths will burn.
Scarf Organizer:
If you find your scarves always tangled then you can use this trick. For this you just need a hanger and few shower rings. Attach shower rings on hanger and then hang your scarves in to it.
Straps:
If your bra straps always try to peek out, than you can attach a tiny button to a piece of cloth and then attach it under your dress. This will prevent your bra from peeking out.
For more fashion hacks and trends, you should visit the JustFab website justfab.com.