There are some things on TV that go very well while there are other things that don't seem to come across as well as they should, or you would expect them to. When it comes to making money in modern TV, there is no doubt that sporting events are huge and draw a great number of people to them. The money that many channels and providers make from subscriptions to their sports channels is huge and a major source of income for many of the providers.
You only have to look at the money that Sky pays for English Premiership football rights to realise that there has to be money in presenting sport to the world.
However, it seems as though it is difficult to do music properly on television. If we revert to Sky, in the summer of 2015, they made the move to scale back their commitment to Sky Arts, halving the number of channels. These were channels included in many of the basic packages provided to users, so they weren't bringing in any subscriptions, but even with this in mind, there was no real hesitation in slashing the offering for the arts.
When you think that music was just one element of what was on offer on the channel, it is a big indicator that music isn't as loved as the major sports like football.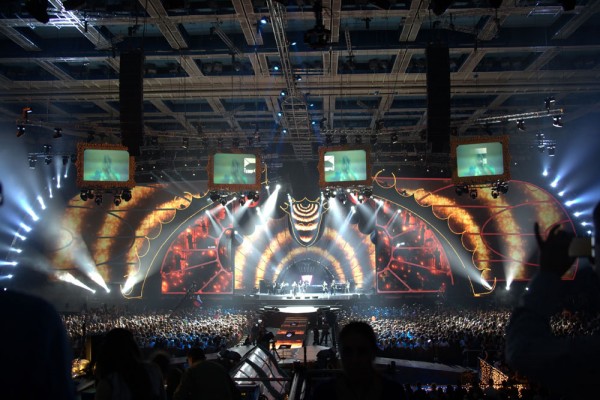 There is a demand to see live music, even on TV
Then again, you only have to look at the number of music festivals taking place around the United Kingdom every weekend of the summer. People love to see live music and while album and single sales are no longer as big as they once were, people still love music. You would still say that more people like and passionately love music than football, but with football and other sports, it can be easier to appeal to an audience.
A football fan that is keen to see their club, apart from heading to the stadium to watch them, will decide that paying the subscription money needed for the TV channels is money well spent. After all, as well as getting to see their own team play on occasions, they get to keep in touch with other teams, other leagues and football from around the world. It is easier to sell a package to football fans than it is to sell a general music package to music lovers.
Perhaps tapping to the passion of sports fans is easier
This is because there are different genres of music and a fan that appreciates one style of music may not have an interest in another. In general, people are more passionate about a football team than a band (although there are always exceptions with boyband fans being a clear outlier) but football doesn't deviate that much, even when it's not your team.
The colour of the strips will change and there won't be the same level of passion involved when watching other games, but people are still keen to watch. Add in the fact that there is a high level of interest in games thanks to live betting and you can see why a fan of one football team would pay money to watch football games that aren't related to that team.
It's not the same for music. A fan of pop music isn't going to shell out a lot of money to pay for a channel that would predominantly feature genres like heavy metal, jazz or techno. Again, all of these different forms of music fall under the umbrella of music but there is too much of a difference. There is also no additional market like live betting on gigs to keep people entertained through a set that they wouldn't normally watch.
These are just some of the issues facing TV producers that are looking to bring music to the masses, and this is just one of the areas of focus at MIPCOM 2015. A Music and TV Production Workshop will be a big element of the event this year and people who are interested in bring TV to the masses should show some interest.
When it comes to arriving on time and being ready to make the most of what MIPCOM 2015 has to offer, it is important to be well rested and prepared. This is where finding the best type of accommodation that Cannes has to offer is crucial. When the future of your career and your channel depends on making connections and being ready to spot the best ideas, you need to be fully focused on the task at hand, which is why finding the right sort of Cannes accommodation is vital.
Andrew Reilly is a freelance writer with a focus on news stories and consumer interest articles. He has been writing professionally for 9 years but has been writing for as long as he can care to remember. When Andrew isn't sat behind a laptop or researching a story, he will be found watching a gig or a game of football.