When most couples think about inexpensive wedding decorations, one of the first things they consider is balloons. You can get a lot of balloons for very cheap, they come in a lot of different colors, and they're readily available at almost every store in America. However, it can be very easy to take an elegant ceremony and turn it into something that feels childish or juvenile, so striking a good balance between elegance and fun is very important. Fortunately, there are some great grown-up ways to use balloons at your wedding that won't look cheesy and can still save you a bundle of cash. Here are five of my personal favorite options.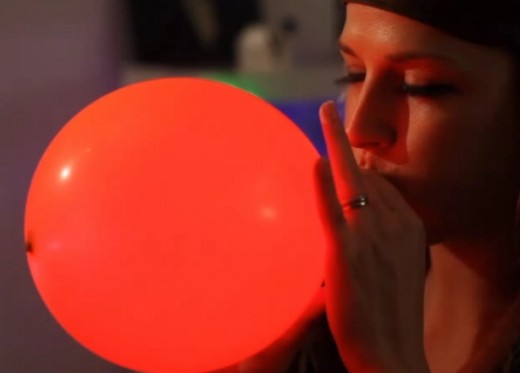 Centerpieces
The centerpieces that sit in the middle of each reception table are a great place to use your creative expression to make your venue look beautiful. Pretty much anything goes with centerpieces, so adding some balloons can be a simple way to jazz up your venue on a budget. Best of all, since most of your guests will stay at their table most of the night, it can make a huge impact on the overall feel of the venue.
Decorating Your Chairs
When most people think about decorating the chairs that guests will sit in during the ceremony, items like flowers and ribbons are the first things that you consider. However, you can create a really great effect by using some white or light pink balloons attached to the back of each chair. Just make sure the balloons are high enough in the air so everyone can see the ceremony. People can see around string or fishing line, but it's hard to see a wedding with a latex balloon directly in your face.
Ring Bearer and Flower Girl
If you're including a ring bearer and flower girl in your ceremony, it can be fun to give them a little bit of an accent so they stick out. Consider attaching a balloon to each one's wrist so they are easy to spot as they make their way down the aisle. You can even color coordinate the balloons; a blue one for the ring bearer and a pink one for the flower girl. It's the little touches that make weddings so special, so color coordination is an absolute must.
After the Reception
It has been a long tradition to have a send-off ceremony at the end of the reception when the bride and groom are about to leave for the final time. People used to toss rice, but now wish lanterns, birdseed, and wedding sparklers have become the most popular choices. However, another less expensive option is to orchestrate a balloon release just before the couple gets into their limousine or other getaway car. If you're leaving at night, you can buy some balloons with LED lights in them to increase the visibility. It's much easier to see balloons that are flashing bright red, blue, green, or other colors as they float into the distance against the dark night sky.
In Your Photos
Lastly, probably the simplest way to add balloons to your wedding while still looking like a grown-up is to use them as props in your photos. One popular way to pull this off is to buy a variety of different of pre-printed Mylar balloons with romantic messages on them Each photo will be lovely and unique, so it's a great way to fill out your wedding photo album.