Festivals are popular in southern Italy and many are based around old traditional religious events with hundreds of tourists visiting at such periods. Below are some of the popular events to help you plan your trip when travelling to south of Italy.
World Festival on the Beach: This yearly beach festival always takes place in May on Mondello Beach which is on Palermo coastline in Sicily. This event is a celebration of beach culture and the outdoors life. The festival has become a very popular summer event which now attracts people from across Italy and the rest of the world. It normally takes place over the course of 5 to 7 days and usually includes a number of activities such as windsurfing, beach volleyball, and sailing.
The Couscous Festival is another one and is a yearly food focused event held in the Italian province of Trapani. Culinary experts from other nations like Brazil, Morocco, Turkey and Senegal participate in San Vito Lo Capo's CousCous event in the month of September and its main objective is to break cultural and geographical limitations, by bringing together European and Middle Eastern couscous recipes. And at the event, participants can also sample the best wines that Sicily has to offer.
Sicily Carriage Festival: This is held in Taormina every year, and is closely related with music, color, art, religion and horses. The event is jointly organized by the Association of Sicilian Carts Trecastagni and the Tourism of the Municipality of Taormina and features a procession of brilliantly painted Sicilian carts. This is held with a commencement of the program at 6pm and held on Fridays in the months of September and October and on various dates in June. It is a celebration of religion and culture aiming to build cognizance regarding the Sicilian culture and folklore among the large crowds of local visitors and tourists who come to view the event.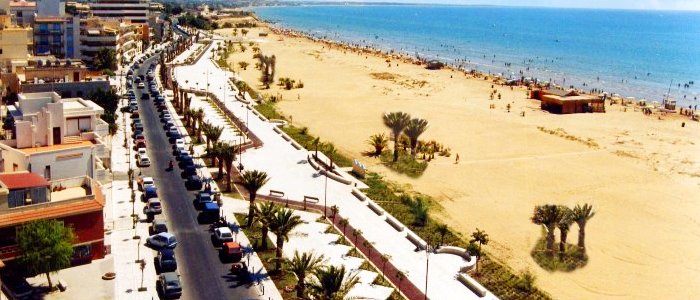 Below is a list of annual events amongst others in Sicily:
6 January
The event Piana degli Albanesi, held in Palermo also similar to that of Greek Orthodox Church.
1-15 February
In Agrigento is the Almond blossom festival and this is a traditional festival in the city of Agrigento showcasing parade shows, and craft exhibits.
19 March
Salemi, a Saint Joseph's Day and is celebrated throughout Sicily with special pastries, breads, dinners.
25 April
Vizzini the Sagra della Ricotta (Ricotta Festival) which coincides with Saint Mark's Day and Liberation Day.
1-15 May
Mondello (Palermo) – This is an exciting Beach Festival, held second week of May.
June
Noto is an Arab Horse Race event (Arab style palio).
Early July
Taormina is a classic event of Film Festival and an internationally known cinema event.
1-6 August
Cefalù is a Holy Savior festival celebrated with music, typical food, and games.
15-18 September
Cefalù is Sherbet Festival, dedicated to sorbets and held in September 15th-18th.
25-30 September
San Vito Lo Capo is Couscous Festival, with a culinary exposition featuring Sicilian and North African cuisine and events.
November or December
Monreale is a Festival of holy music (chant, hymns) performed traditionally.
December
Caltagirone is an Exhibition of ceramic Nativity scenes.
Provided by: Casevacanzapozzallo.it