The stairs are regarded as dead corners in home decorating. Because of the irregular shape, many people do not know how to make use of this space. In fact, if you spend some thoughts for designing this space, it can give you surprise. Here are some suggestions for the stair designs.

1. Design It as a Bookshelf
This is the frequent way to use the stair space. As the bookshelf or book cabinet can be customized by the shape and size, it is perfect way to place books if you do not have a study room. For some brilliant decorating examples, they even made this place a hidden space with the bookshelf playing the door role. In this case, they have a secret place for the home at the same time.
2. Make It a Storage Room
For this place, it does not have large area. You may build a wall along with the stair brim so that this little space can be maximized and add more space for the storage. At the same time, it solves the empty feeling for this area. You may put the stuff that you often use in it.
3. Create a Display Cabinet
You may feel that this place is too narrow so that you do not want to put things in it. Well, you may do a display cabinet here to display your collections or storage basic stuffs such as the bags, shoes just as the supermarket do. But do not forget to make it consistent with the whole home decorating style.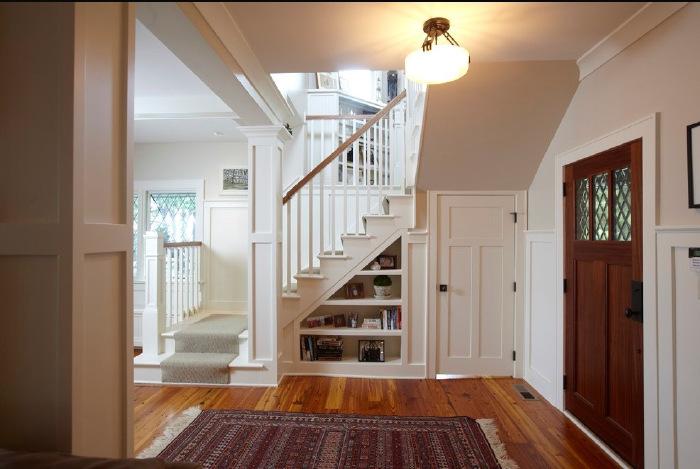 4. Decorate a Wine Cabinet
If you often drink or your guests drink a lot, you may build wine cabinet in home for collection. Wine bottles are fragile. You have to build shelves or cabinet for them. if you do not have plan about the stair space, why not take advantage of it and design a wine cabinet under the stairs! You can store lots of wines here.
5. Display Cabinet and Storage Room at the Same Time
There are not so many items for displaying or it is not eye catching to display your collections here. Then you can make this place a storage room and display cabinet at the same time. The display cabinet can play some daily used articles here and some books or whatever you want to posit. Meanwhile, the size of the small storage room is not decreased by the cabinet.
6. Arrange a Single Bed
Every home has extra guests, especially in the holidays. How to solve the sleeping problems for the guests? Here is a good idea: Make this space your dream bedroom. . You may take advantage of the stair space and place a single bed here. We all know that a bed does not need too much space. The stair space is enough to do so. But some guys may think it is too narrow and dark sleeping here. You can add lights and do decorating here as well to make this place much wider and brighter.
If you have more ideas about the stair decoration, do not hesitant to leave comments below. At the same time, you can learn the info about the nursery wall decals here.