Is there such a thing as shopping in Bangkok the smart way? Absolutely. Has to do with bargaining and haggling doesn't it? Yes but there is in fact a lot more to it than that. It's about knowing the different shopping destinations, the budget to bring with you and how far it is from your hotel. You definitely do not want to be carrying your load a long way back to the hotel and believe me, no one comes to Bangkok shopping with less than 5 bags a day!
Let's start first with getting a better idea about the top shopping destinations in Bangkok. For luxurious brand names and expensive goods, you'll be looking at Siam Paragon and Emporium, both of which are located on Sukhumvit road, just about 5 BTS skytrain stations away from each other.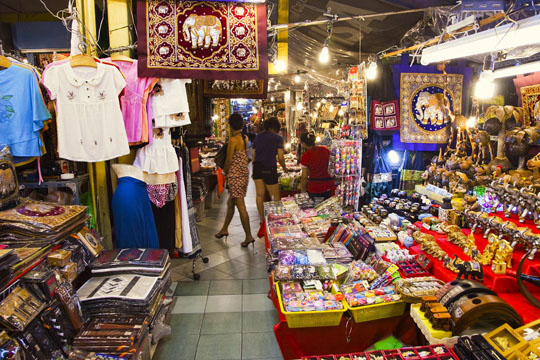 If you're looking for souvenirs and local goods, then you'll want to be going to Chatujak weekend market or Jim Thomsons. For cheaper fashion shopping where you could probably bargain quite a lot, go for MBK and Platinum mall. Finally, if you're looking at more of a shopping and dining feel, Terminal 21 at Asoke is a great choice.
One thing I want to bring up right about now is how close to Siam these shopping places are if not directly in Siam area. Hence, shopping smart in Bangkok as illustrated here, starts as early as selecting the hotel for your trip.
The closer the hotel is to the shopping malls and outlets, the better; it means less traveling time, cost and easier for you to drop off your morning shopping parcels back at the hotel for round 2 in the afternoon! Mercure Bangkok Siam is a hotel smack in the shopping district that is almost always fully booked due to its location; a favorite among shoppers. There are other alternatives of course, but being just walking distance to the BTS skytrain station, it's always a good idea to check room availability just incase.
Next, is about going from one shopping center to another in a straight line as oppose to going around in circles. If you're planning on a short 1 day shopping spree starting from Siam, you'll first want to stop by Siam Center, followed by Siam Paragon which are right next to each other. Then take the BTS Skytrain station from Siam Paragon, accessible via skywalk from the department store and step-off at Asoke station which is 3 stops away. From the skywalk, you could walk to Terminal 21 which offers high-end non-branded fashion items. Be sure to bring your camera. There are a lot of opportunities for photo taking at Terminal 21. One of the highlights is actually the washrooms, whereby they all have a unique theme.
Then from Terminal 21, take the BTS skytrain again, just 1 station to Phrom Pong station. Again you can use the skywalk to directly access Emporium. Emporium is smaller in comparison to the other department store, but for brand name shopping it's probably one of the most convenient. The luxurious shops are literally lined up next to each other. And there you go; shopping at 4 major department stores in just a day. Something highly possible if with the right traveling plan mapped out.
Next tip is the question of what you want to buy. If you are looking for electronic goods, then you should be going in completely the opposite direction towards Pantip Plaza, one of the largest IT malls in Bangkok. It's referred to many travelers as the mother of all IT malls.
Smart shopping in Bangkok is about bargaining skills but it's also about smartly mapping out your shopping plans. Happy shopping folks!