Ig Nobel in 2014 held at Harvard University's Sanders Theatre, This year's Ig Nobel is one of the most purposefully ridiculous ceremonies in all of science, what a wonderful it was five wearing a white lab coat, accordion played upon researchers the sound of the piano and the paper airplane in slowly opened. This year's theme is "food." The following is the list of winners of 2014:
Prize in Physics
Awarded a Japanese scholar, because he measured the friction shoes, banana peels and between the floor to receive this award.
Brain Science Award
Awarded to Professor Li Kang-Chinese University of Toronto, he was researching "When people see the face of Jesus Christ on the scorched bread, the mind what happened" to receive this award.
Psychology Award

Awarded to a group of researchers, "people are more likely to stay up late with mental illness," the scholar.
Public Health Award
Granted the two groups were studied, "and if there is danger of a cat to live together," the scholar.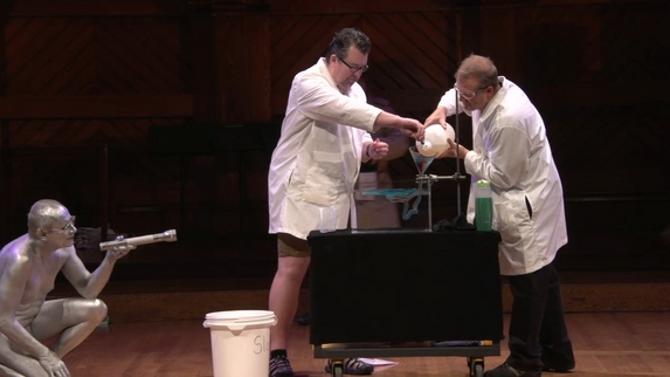 Biology Award
Grant from a group of the Czech Republic, Germany and Zambia research team, because they found that "the dog is based on Earth's magnetic field stool" and received this award.
Art Award
Awarded to a group of researchers, "When people look at a pair of ugly paintings were irradiated with a laser felt pain," the Italian scholar.
Economics Prize
Awarded the Italian government, their study is the impact of prostitution and the drug trade in their country's economy.
Prize in Medicine
Awarded to a group of American Indian scholars who study because "nosebleeds can be inserted bacon strips" and to receive this award.
Polar Science Award
Norway and Germany granted a team, because they study "reindeer disguised as a polar bear in the face of human response" to receive this award. (Pictured)
Granted to a group of teams from Spain, because they study "fecal bacteria can be used to produce probiotic infant sausage" to receive this award.
About the Ig Nobel
Ig Nobel is a Nobel Prize interesting imitation. Its name comes from the Ignoble and combine Nobel Prize in (dishonorable). Organizers of the scientific journal Humor (Annals of Improbable Research, AIR), some of the judges are a real Nobel Prize winners. Its purpose is to elect those who study "laughable at first glance, then think". The award ceremony in October each year, held one to two weeks before the Nobel Prize, place in Harvard University's Sanders Theatre.