There's nothing better than curling up in front of a beautiful hearth in your bedroom, watching the gentle flicker as the flames dance to its own melody. It is deliciously decadent to succumb to deep slumber in your own snug space. Yet you have given up on that idea thinking of the maintenance and cost of installing designer fireplaces in the bedroom when you already have one in the living room.
Because of modern advances, you can now take the warmth and comfort of having a fireplace into your bedroom. Modern gas fires are very much suited for any home. You can take pleasure in having these types of fireplaces without the installation, cost and the traditional maintenance of a regular fireplace.
The following are modern-day fireplaces and the design possibilities that can remove objections or barriers you may have had.
A modern Warm Focal Point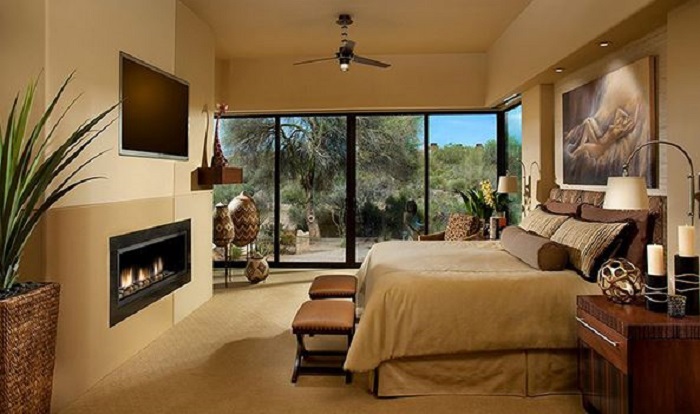 Instead of mounting a television, try exchanging it for a more tranquil focal point. Modern-day fireplaces can be mounted on walls thanks to its flexibility in design. Surround colours usually come in white or black, which favours contemporary or modern bedroom designs.
Meanwhile, a mounted television with a wall-mounted fireplace on the bottom is a perfect way to utilise space, especially for small bedrooms, small apartments or condos. Throw in some high-back chairs and plush pillows and you are good to go to snuggle and be cosy.
A peninsula or Three-sided Fireplace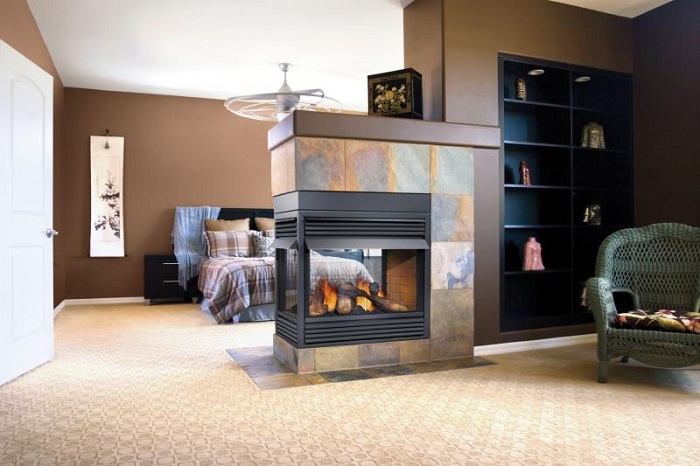 For a more private bedroom, a peninsula fireplace is a perfect design that elegantly separates a single space. You can have your bed on one side and sitting areas on the other, without having to install a wall in between. The peninsula's unique design boasts a three-sided glass that allows the flames to reach the other sides of the room. This particular fireplace is built into a partial or half wall.
Hanging or Suspended Fireplace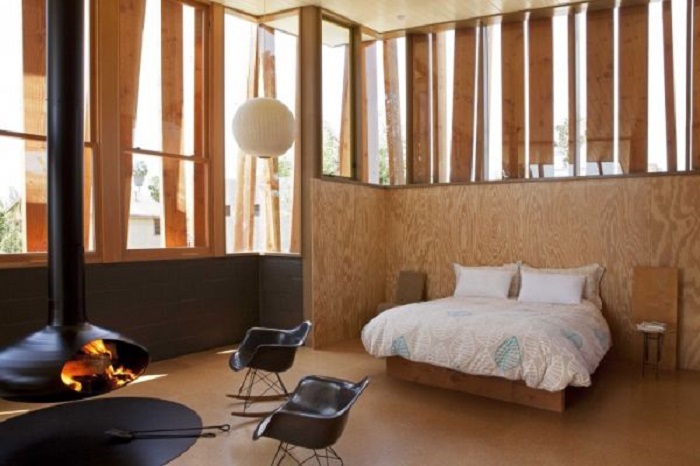 Modern fireplaces come with a twist. For a unique bedroom fireplace, opt for hanging or suspended ones. Floating fireplaces are unusual and elegant at the same time. It's as if you have a piece of a functional contemporary art in your very own bedroom. The central position of suspended fireplaces is more efficient at distributing heat and can be used as a light source to create the bedroom's mood and atmosphere.
These are just a few of the inventive ways to bring designer fireplaces into your bedroom and to create a warm comfortable atmosphere with a hint of sophistication. Whether you are remodelling, building or just sprucing up the bedroom, you should remember the character and overall design aesthetics a fireplace can add to any room.
Bio:
Modus Fireplaces has been in the industry of producing bespoke fireplaces and providing luxury designer fireplaces for homes and hotels in the UK. Together with Europe's top manufacturers, we are able to provide clients great and unsurpassed collection of unique fireplaces. We know that most of their clients have different needs, which is why we will work on site and directly with them to achieve in creating that impressible fireplace.