An architect is someone who loves to design, and is specifically licensed and trained to work on the planning and design of buildings. The facets of an architect's role are as varied and fascinating as their work. Architecture is an art that works hand in hand with science to design places where people can live, eat, work and play. This design may be something as simple and small as an addition to a family's existing home to something as large as a school/college, hospital or an entire neighbourhood.
The main role and focus of being an architect is to bring together your creative ideas, remember to keep in mind the needs of those that will be using the space. The works of great architects have shaped cityscapes around the world. Some of the world's most impressive architecture attracts visitors from far and wide, showing real popularity. So, you may be thinking, what does it take to become a successful architect?
Great architects are able to successfully combine electrical, mechanical and structural elements into their designs, as well as being able to account for the unique requirements of particular building materials.
Team work is vital in the world of architecture as well as being able to work in a team environment. When architects bring their work together, and combine their ideas, it creates marvellous designs as a result. The whole designing and building process is the result of not only architects, but that of engineers, designers and builders too.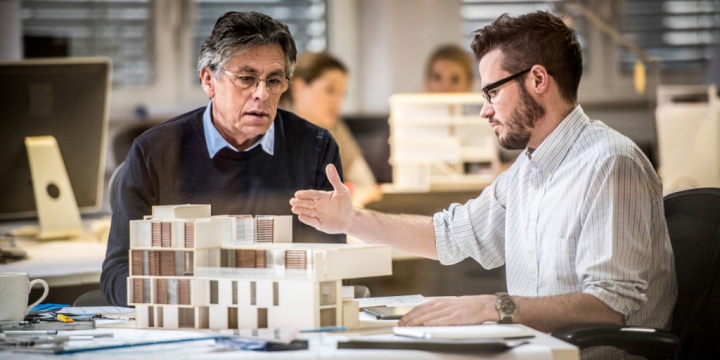 There are many qualities needed to make a successful architect:
Good communication skills
A great architect needs to have excellent written and verbal communication skills, and also to be able to be a part of discussions with clients and builders to ensure each party has sufficiently communicated their needs for the project.
Excellent listening skills
An architect must have superb listening skills in order to fully grasp what it is the client is after. To ensure that the architect fully grasps what the client is after, exceptional listening skills are a must.
Has an excellent sense of design
Great architects must have an eye for a good design and have the ability to translate ideas onto paper to share clients and builders.
Being able to problem solve
A great architect must have quick thinking, problem solving skills. They need to be able to identify problems as soon as they arise (or before they arise) and develop solutions to resolve them.
Being an architect, you will need a good sense of vision. Being able to visualise the finishing results through all the stages of the designing and building processes.
Have a Passion for your work
The most successful architects are the ones who work in the field because they love it. Passionate architects tend to have a fantastic work ethic, which shows in the work which they create.
If you feel you have the right attributions and traits to become an architect, why not take your aspirations to the next level?
Jason Hart