Guitar is one of the well known musical instruments that is known to almost every music lovers, all over the world. Nowadays, they are available in many different materials e.g. Ekoa, carbon fiber, fiberglass, and many other recycled materials too. However, wood is used for making most of the traditional guitars.
Very high quality wood materials are used on the top and back of most professional guitars, while any medium grade guitars are made of pressed plywood material. Pressed plywood is often known as laminate, as they are usually made out of a number of layers of thinly processed wood materials. The layers that are carefully bonded together by using certain adhesives.
You will need knowledge and experience to judge the proper quality of guitar tonewoods. Those who have played on many different kinds of guitars will know how to make proper judgment. This skill can come to you only after many years of involvement with different kinds of guitars.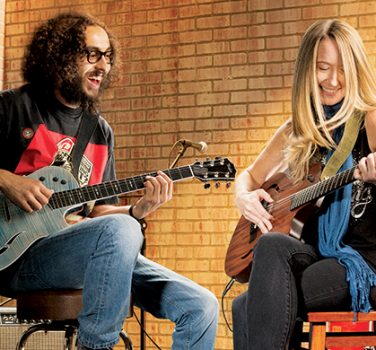 Usually, beginners will tend to choose laminate guitars, but as they reach the professional levels, they will prefer high-end guitars that are made with selected tonewoods.
Comparison in looks
If you look at guitars from an aesthetic point of view, then the guitars made of solid wood will certainly win on all accounts. Most of the top custom acoustic guitar suppliers make use of various exotic varieties of woods, like Brazilian rosewood, koa, or cocobolo. However, due to short availability of such materials, these types of guitars are comparatively expensive, but are definitely well worth the price.
Cost vs. Sound Quality
On the other hand, laminate guitars are available in different colors and certain wooden grain patterns, which are also quite good looking. Sometime these wooden patterns give the look of almost a solid wood guitar. Also, these laminate guitars are much cheaper as compared to solid wood guitars. However, they do not match up to the distinct sound quality and consistency created by the tonewoods.
Durability
Technically, the durability of guitars will depend on how you maintain and take care of them. If you are a person who loves traveling, then it will make sense for you to go for a proper guitar case that can protect your precious instrument from damages and external impacts.
If you traveling to perform at some other place, then you will surely want to carry your expensive wooden guitar, and not the cheap laminated versions.
For a guitarist, the instrument is like the closest companion, and the feel of performing with your favorite wooden guitar is something that is simply incomparable. As long as you take proper care of your beloved instrument, you can enjoy the musical chords and notes for many years.
Tone
As far as the tone is concerned, a professional musician would simply pay anything for getting the better tone quality. If you compare the tone of solid wood guitar and laminate guitars, you will notice that the tones produced by solid wood guitars are very consistent. Sometimes the laminate guitars can sometime give a better tone than solid wooden ones, but its quality of tone is never consistent, as compared to what you get with solid wood guitars.
Finally, the guitar choice will depend on user's preference, experience, and budget.