If you are on a verge to buy salwar kameez online or offline, keep these shopping tips in mind while making a purchase. Get ready to become the fashion icon of the season by shopping like a pro. Bundle up!!!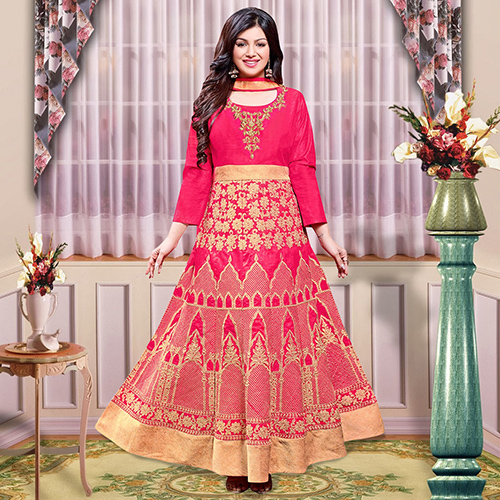 The traditional dresses of India such as sarees, salwar suits, and lehengas are high in trend and are hugely appreciated by world level fashion experts. These enchanting Indian staples can do wonders to any woman's personality and are the best to exhibit the flawless curvaceous body of a woman. If ever you crave to slip into dazzling salwar kameez, make sure that you keep these things in mind while shopping for it. Be it traditional Patiala salwar or modern palazzo, wear the right kind of jewellery and accessories to get the desired appeal and make heads turn around. Available in wide range in terms of shade, work, pattern, fabric, design and style, these women dresses are designed to match the fashion needs and style statement of every individual. So, make sure to buy the right fabric, style and design depending on your personal taste and the theme of the occasion. Here is your guide book to make the best shopping ever –
Length of the Suit
Long floor length, knee length, extra short – what's your style!?
Keep focus on the length of the salwar suit to complement your individual body shape and style. It also depends on the trend which is ongoing. IF you want to stay fashionable and stylish, follow the trend to make an everlasting impression on onlookers.
Type of Salwar to Explore Options
This is the most important parameter to remember while shopping for salwar kameez online or from the store. Try to pick type of salwar which is trendy and can be paired with different variety of suits to look different with range of outfits. Isn't it amazing way to utilize single garment??? That's what fashion lovers do.
Neck Pattern & Sleeve Length
If you want to enhance your ethnic look and make the most of your gorgeous personality, pick attractive neck pattern which also goes with your individual style and fashion statement. Also, you should play with sleeve length to call it vogue and stand apart. Well, quarter sleeve and full sleeve pattern are high in trend.
Print & Embroidery
What's the occasion??? Family night, wedding, engagement party or college farewell!?
Choose design and print according to the theme of the occasion and season. For example, if the occasion is family get together, go for light prints and simple embroidery to cast spell on onlookers and stay simple yet sassy in ravishing Indian wear.
Focus on Dupatta
Well, the trend is to wear plain suit with designer dupatta. Also, I am asking you to focus on dupatta because you can use it with various other party wear dresses. For example, heavy silk dupattas can do lot of things in just seconds. What say???