The Ironman Triathlon is one of the most rigorous tests of mental and physical endurance ever created to challenge an athlete. These long-distance races are organized by the World Triathlon Corporation (WTC) and swimming, bicycling and a marathon.
Several surveys have revealed that many seasoned athletes fear the swimming part of the race the most, because it is often the most dangerous and requires a very specific style of training in order to produce results. This aspect of the triathlon also sets the pace for the rest of the event requiring contestants to swim 2.4 miles (3.86 km) in open water.
In 2013, Ironman began the Swim Smart Initiative in order to set guidelines to address safety concerns including water temperature regulations, warm ups, wave starts and mandatory rescue boats and watercraft to allow swimmers to rest or exit the water without being disqualified.
However, if you are training to add this endeavor to your list of accomplishments, it is important to consider this: the best way to conquer the fear of the swim and insure safety begins with preparation.
Most triathletes consult professional aquatics instructors and train with licensed swim coaches. Experts know that training requires different techniques for different athletic goals. While there is more advice to give than can be fit into a blog, we offer some preliminary suggestions.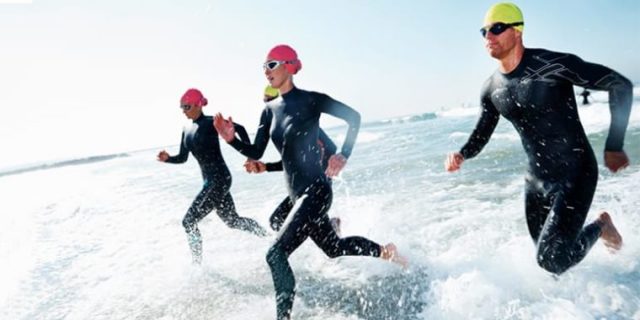 Practice makes perfect. It goes without saying that the best way to prepare for an open water swim is to get in the water. Training in a pool with a swim coach is a good start, but you need to remember that swimming in a pool is very different from a long distance swim away from a shoreline.
Professional aquatics instructors can help give you the tools and tips you need to succeed. Swimming in open water demands accompaniment. Even the most experienced swimmers make sure that a lifeguard, friend or coach is nearby to account for the unexpected. Remember that you are not swimming where you can see what lies beneath during a triathlon.
Different water temperatures affect your swim. Wetsuits vary in thermal protection. It is easy to overheat in warmer waters or to freeze in cold water. Keep an underwater thermometer to test the water before entering. Always consult an aquatics professional about the right gear for the right time of year.
Sometimes there are limited focal points to keep you swimming in a straight line. During a race, there are floating, orange markers that outline the path. Spotting these markers and keeping them in view requires some practice. A good swim coach can teach you how to make sighting markers are part of your warm up.
Consult a professional about improving breathing technique. Remember that the swim leg of the race is only a third of the challenge. An aquatics coach can teach you to maximize the strokes that you can get out of each breath and techniques to improve bilateral breathing.
Create drills for practice that improve areas of weakness. Every individual has room for improvement in different areas. Before you go out and conquer one of the most difficult challenges available, consult an expert at WaterWaves to see how they can set you on the right path to improving your kick, hand entry, breathing and overall technique.
Isabelle is a swimming and fitness trainer and blogger for WaterWaves.com