We all try to find ways to beat the heat during those scorching hot summer days, but one method that can help that you may have overlooked is your thermostat. A simple update to your thermostat can completely change your indoor experience and energy bills during the year to make your life that much easier so you can worry about life's other priorities like enjoying your favorite summer activities like swimming or sunbathing.
Basics
A basic thermostat is simple to control, but might not allow you to be as efficient as you want and doesn't give you much control over your energy usage or help with being more conscious about energy usage. A manual thermostat remains at the same temperature that it's set on for long periods of time. It's quite inconvenient to have to turn it off when you leave so you don't waste electricity and have to come home to something that feels similar to a freezer until it warms up. It's also rather easy to forget to turn it off when you leave the house or turn it down at night.
Programmable Thermostat
A programmable thermostat gives you all sorts of control options to easily manage your home's energy usage and efficiency. You can set it according to days, nights, weeknights vs. weekdays and adjust the settings to accommodate your lifestyle. It's recommended to turn your thermostat no lower than 78 degrees in the summer to keep costs down but still remain comfortable. Turn the temperature up at night or when you're going to be gone, such as while you're at work, to conserve on energy usage.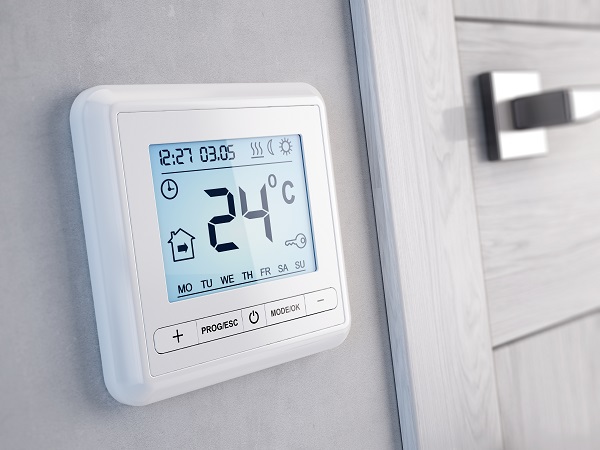 Wi-Fi Connectivity
The age of technology has introduced Wi-Fi thermostats to the market. These are a part of the smart home items and allows you to control the settings directly from your phone or tablet wherever you are, making it the ultimate convenience and giving you the most control any time of day or night. You can check on the current temperature in your home, turn the temperature up or down, and adjust the settings so you arrive at a comfortable home. You won't walk in feeling like you're melting or like you're in an icebox once that door opens.
Some smart thermostats keep your settings stored and begin to learn your habits, allowing them to automatically adjust based on the time of day and temperature in the room. They're even able to detect the outside temperature, humidity levels, and other weather factors to make your heating and cooling system run effectively without you needing to lift a finger or concern yourself with deciding which settings are the best for the current weather conditions outdoors.
A new thermostat will transform your energy needs and efficiency completely during the summer months. It's significantly easier to change and save settings while also giving you the ultimate control over how warm or cool your home is while you're not even home. Putting your Wi-Fi connected thermostat on a schedule will help your electrical needs this summer.
Charlie Teschner started MESA Plumbing, Heating, and Cooling in 1982. Charlie has a journeyman and master plumber's license. He was raised with a strong work ethic and he now applies those values to tasks such as Longmont, CO heating repair.