Why to pay for data recovery software when free options are available? Losing important files all of a sudden is like a nightmare which none of us wants to have but in reality it is not in our control. Reasons because of which one may lose important files are:
Accidental deletion
Device formatted
Hard drive failure
Virus attack because of accessing unauthorized pages
System breakdown
Loss of data in some areas
RAW partition data loss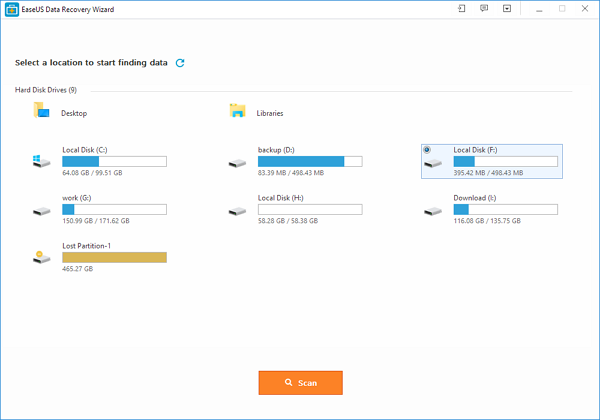 Loss of data is a big problem but it can be handled easily if chosen a right way. Actually approach decides whether the problem is big or small and how much time you need to overcome it. By approach i mean the software you prefer. Choosing perfect software is again a task because you cannot spend your earnings just like that on any software. So, in such cases free versions result out to be best as they don't charge you anything and makes you aware of the interface.
Then the other or the easiest way is to consult experts. Although professionals are there to help us but again money issue comes.
Why to consult experts when you can be one?
Data recovery does not need special skills if you are using EaseUS software. EaseUS is data recovery software that doesn't only show the way but also goes that way. In simple words, EaseUS gives what it promise from advanced features to user-friendly interface so that none of its users find any difficulty while working on it. If you have basic computer operating knowledge then EaseUS is a perfect data recovery solution for you and it is absolutely safe.
You can work like a pro just by sitting at home without thinking much about losing any of your important files. This is possible because if you lose any file because of system crash or by accident you can bring them back quickly.
The best part of working on EaseUS is that it is not limited to data recovery from computers. You can easily recover deleted, formatted and lost data from computer or any removable device (memory card, USB, other digital devices). Even hard disk recovery is easy with EaseUS.
Apart from technical help EaseUS has taken care of user comfort zone in the form of multiple language facility. So many users are not comfortable with English so EaseUS provides various languages in which Turkish and Arabic have been recently added to provide maximum friendly platform. Similarly, different editions of software are available so that as per needs user can choose the desired one. For better features you can upgrade your free version of software and if free version is enough for you then just enjoy the free world. So, no payment hectic, no getting con tension and best of software world, this is what EaseUS provides.