Many people are surprised to learn that you can start introducing your child to the swimming pool as early as six months old. While actual swimming lessons are of course still a few years out, your baby can begin to discover the water safely with your accompaniment.
Throughout the next few years as you build up to more formal swimming lessons, there are some activities and teaching tools you can implement to help prepare your child for future lessons.
Remember that, while your child becomes more familiar and more comfortable with the water, the danger of drowning is still very real. It is imperative to teach your children critical rules about water safety and help them understand that they must never get near a pool without an adult. It is natural for kids to become more complacent about swimming once they've overcome any initial apprehension about the water and discovered how much fun it can be. You must remain vigilant.
Furthermore, it is highly suggested that every parent of a young child be trained in CPR and First Aid. These essential skills could very well save a life, and will give you additional peace of mind. There is a good reason why all Lifeguards are trained in CPR – you should equip yourself with this life saving tool as well. Safety first!
If your child has taken to the water well and is comfortable being in the pool with you, it may be time to start teaching some basic skills yourself. Encourage splashing and playing in the water. Let your child get familiar with how the water feels, learn about buoyancy and the resistance when we push against it.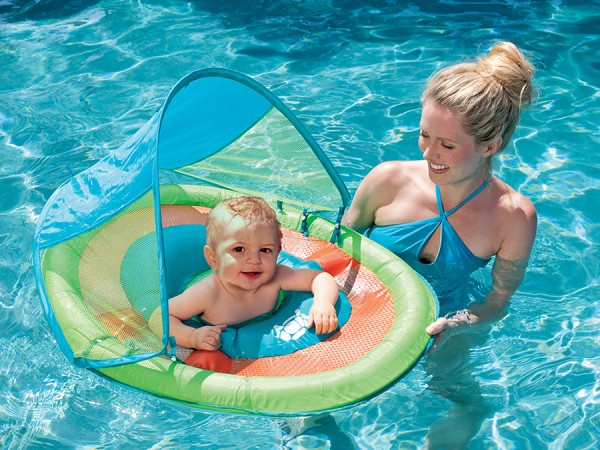 With a lot of water play and splashing, your child may end up with some water in her mouth, nose, ears and eyes. It will likely only be a minimal amount, but it still may cause discomfort. However, it's a good experience for your little one to learn how the water feels when it becomes a little more invasive than he might like. Remember to apply ear drops after swimming, so long as they aren't restricted by age.
As your child gets stronger and more acclimated to the water, you can begin teaching more standard swimming skills – most commonly starting with kicking. A good strong kick is a major component to learning to swim properly. This is a skill your child can't practice enough in the pool prior to swimming lessons. If your kids can stand up in the shallow end of the pool, they may find walking along the bottom a tough habit to break if they haven't developed good kicking skills.
Another key factor in teaching young children to swim is getting them to put their face in the water, often accompanied with blowing bubbles. Every swim teacher will work to cross this threshold with their younger students, and it's not always easy. If your child is apprehensive about putting his face in the water and blowing bubbles, start with a drinking straw and have him blow bubbles into the water from just above the surface. This technique has quite positive 'stepping stone' results toward the end goal.
If your child has had positive experiences with the water during toddler-hood, you may consider professional swimming lessons around age 4 or 5. However, children tend to remain less proficient with swimming until about age 6 or 7.
Just remember, regardless of how young your children are when you enroll them in swimming classes, they will always require the vigilance and support of adult supervision whenever they are near any body of water.
Clay Adams is a former lifeguard / swim instructor and blogger for waterwaves.com