It takes a lot of effort to learn another language and requires more effort to master the fluency in it. If are also trying to get that fluency in a language other than your native one, you need to keep working on your language skills. Because you lose, something you do not use. Right!
There are some tips that you can use to master any language, while you are on a school break.
Make friends with technology
There are quality voice recording devices for lectures available in the market. Get one and start recording all language lectures during your school. When you are on your school holidays, you can listen to these audios and keep the tricks fresh in your mind.
Rather than spending time on video games, download some language apps from the app store and use it in your free time. If you spend most of your time browsing the web during your school break, change the format of the websites in the language you want to learn. You can also sign up for some online foreign newspapers to get the fluency in that language. Make sure that you learn at least 500 new words before you return to the school after the break.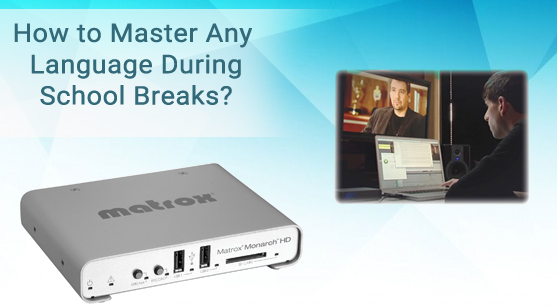 You can also join some online short-term language courses. Many foreign students teach their native language online to get some extra bucks.
Revise what you have written
You must have worked on different projects during your college language classes, review them to get a better insight. Use all those essays and research papers that you have written during your classes. Try to find if there are some mistakes, which you missed earlier. This will help you understand your past grades better. A digital recorder for lectures can be used to record language classes. It helps a lot, in revising everything during school breaks.
You can also go through your language textbooks during breaks. Revise concepts that you have been studying throughout the semester. If you have mastered all the topics covered so far, consider reading further for the next semester.
Make learning a fun exercise
The last thing that a student wants to do during college break is study. This is the time when you do not have to open books if you don't want to. No matter if you think the same way, you can still master the desired language during school breaks without feeling bored.
Try getting access to the television shows or movies in the language, which you want to master. It is a fun way to get used to the facial expressions and sounds related to the language. Remember, listening to a language gives a better understanding than writing and reading.
You can also pick up your favourite magazine in that language or consider watching movies or shows with subtitles on, as it enhances the reading capacity.
Today, most people try to learn more than one language. All of them use their own technique to attain the fluency. Do you also have your own tips to master a language?