Why Have A Central Vacuum System?
One of the joys of building your own home is deciding what type of amenities you'd like to have. While some items, such as a sauna or a pool are purely luxury items, there are some items that make life more convenient. One of these convenience items that every homeowner should consider installing in a central vacuum.
Central vacuums are a system that is installed through your entire house that makes household cleaning and chores a breeze. Here are a few reasons as to why you should be considering having a central vacuum in your home.
Efficiency at it's Finest
Let's face it, having to lug around a vacuum cleaner can be a real pain, especially when you have to truck up and down the steps. One solution might be to have a separate vacuum for the upstairs, but this can end up eating closet space as well as doubling the needs for bags, belts and filters.
With a central vacuum, you simply plug the hose into one of the many ports built in throughout your house and you're good to go. This takes away a lot of the time and effort that is usually necessary to vacuum your home.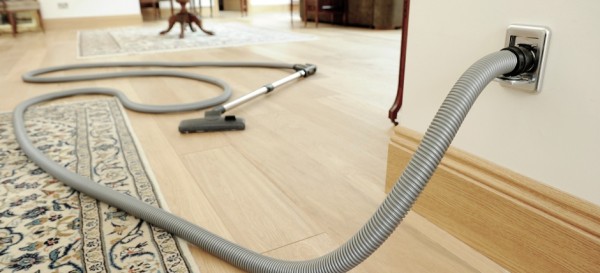 Less time Emptying the Vacuum
Another drawback to having a regular vacuum is the small storage tank for dust and debris. Typically this will need to be emptied either every time (especially if you have dogs) or every other vacuum at the least. If you suffer from allergies, this part of the chore can be a nightmare, as you're literally opening and dumping out a tank of just about everything you're allergic to.
The great thing about a central vacuum is that the ducts carry everything down to a massive storage container in the basement. The shear capacity of this tank means you only have to empty it once every couple of months, instead of every couple of vacuums.
No More Dust Pans
If you've ever had to push a broom, you know what a hassle trying to manipulate the dust pan can be. Wouldn't it be great if you could just sweep the dust and dirt up and be done with it? Well, with a central vacuum, you can do just that. Many central vac systems have a small intake vent that is conveniently hidden under the ledges in your kitchen and around the house.
With this, you can simply sweep up the dirt and push it right into the vent where the ducts whisk it away to the collection chamber. No more dust pans, no more hassle.
When you're building your new home, take a moment to consider what sort of conveniences you can add to make your life better. A central vacuum is a great idea as it not only makes cleaning short and sweet, but also adds incredible value to your home. The return on investment alone is worth the consideration, even if you don't decide to use it (central vacuum is very easy to install as your house is being built). However, there's something to be said for the technological leg up towards the nuances of everyday living.
Citations:
https://plus.google.com/114412502820783104314?20rel=author" target="self">+Ken Uhrich likes houses. In fact he lives in one. You can drop him a line at the Custom Home Group http://www.customhomegroup.com/blog" target="self">website.