It seems that getting fit these days always comes with gyms, sports or team memberships. Not only for adults, but for children as well, especially since it is vital to teach them about healthy diets and exercise from a young age. This way, healthy habits and routines would be stay with them as they get older.
But there are creative ways to get fit at home, and it doesn't just involve a home gym. Encouraging children to get fit can be challenging since the exercises provided need to be interesting enough to hold their attention. The key is to have a few staple items around the home that they can enjoy again and again but keeps them moving.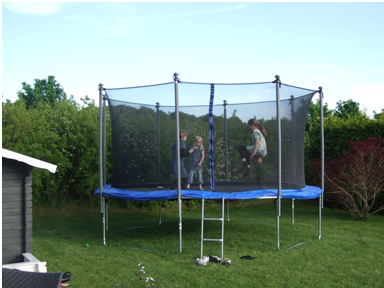 Trampolines – Disguised as fun, trampolines are a great way to have cardio exercise that is basically an equivalent to aerobics. It also strengthens muscles in the legs and thighs with minimal risk of joint damage (unlike with running or skipping). Getting kids trampolines for your backyard can be a healthy activity your children would go back to time and again. Add some toys such as balls, water guns and noodles and no one would even notice they're exercising when they're playing and learning tricks. Just make sure they are always supervised when using the trampolines. Trampolines with wall guards are a safe option, especially with younger children, to prevent falls and mishaps.
Fitness Apps – While plenty of fitness apps are famous among adults, there are actually many fitness apps for kids that are easy to use at home or on the streets. The most popular 'fitness' app at the moment for all ages, Pokemon Go, encourages prolonged walking as cardio exercise. Walking along with your kids and supervising them to make sure they don't walk into any dangers while using such apps is optimal. There are also apps just for inside the home such as MotionMaze, which is a puzzle game solved by walking into certain areas of the house and performing physical actions the app can sense.
At Home Sports – Definitely far from having a football or soccer field in your backyard, there are still some sports games you can play inside your home that need lots of movement. One good example is table tennis. Playing table tennis at home in a wide space, such as a garage involves running, stretching and hand-to-eye coordination. Of course, this also applies to console sports. Wii games, specifically Wii Fit Plus games are built for home exercise, presented as either exercise simulations or games. These games also have programs to track fitness progress and goals for the whole family.
While many people struggle with health issues and the motivation for exercise now, imagine the difference if they were used to doing exercise from their childhood days. Childhood obesity is on the rise and with markets filled with plenty of unhealthy food, one thing you can do to counteract that is to encourage healthy living and exercise.