Homebuyers may shy away from purchasing a fixer upper for fear of difficulties obtaining financing. However, financing a fixer-upper is not as difficult as some homebuyers likely assume. Discover how you can finance a fixer-upper to turn it into your dream home.
Is buying a fixer-upper worth it?
If you value the look and feel of an older home, you may find yourself drawn to a fixer-upper. Finding a fixer-upper home in a good neighborhood is potentially a dream come true for homebuyers.
However, is buying that fixer-upper home worth it? Of course it is, if you consider everything involved "Do your homework,"suggests U.S. News Money. Before you buy a fixer-upper, whether you plan to live in the home yourself, rent it out or "flip" the home after making repairs, make sure you follow these tips:
Take a contractor with you when looking at the home – Contractors can see things you may not see and can give you a general idea of repair and renovation costs.
Check out the neighborhood – While the home may be advertised as being "In a nice, quiet neighborhood," that does not mean it actually is a quiet neighborhood. Check out the crime rate and drive by to see what goes on around the home.
Consider all costs – While the selling price seems attractive, repair and renovations can take you over your budget.
Do not get discouraged – Financing is available for the fixer-upper.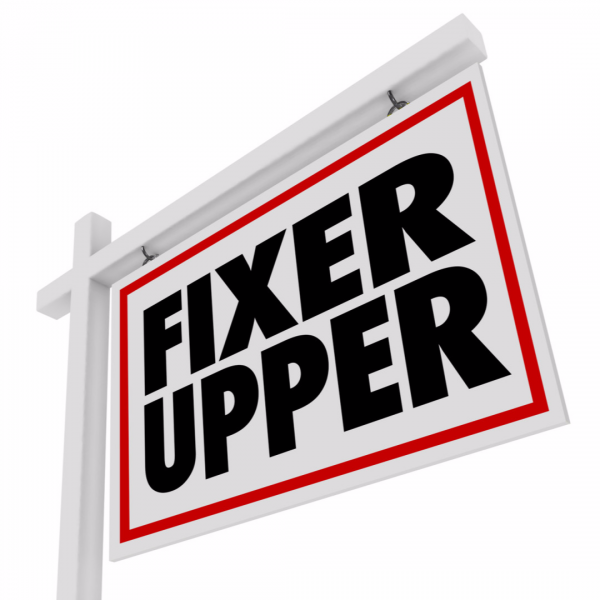 So can I really get financing for a fixer-upper?
Just like with any other homebuyer, financing is available for buyers considering purchasing a fixer-upper. FHA Loan Articles explains, "A program known as HUD 203(k) lets qualified buyers purchase fixer-uppers with FHA guaranteed loans, and even has built-in protection for the borrower should the repair and renovation process cost more than expected."
The 203(k) loan has a lower-than-usual credit score requirement, making it ideal for homebuyers with a score of at least 580. The homebuyer submits a detailed list of repairs needed to the fixer-upper home, along with estimates of the repairs. If you meet other requirements, FHA points out, "You don't have to purchase a brand new property to get the benefit of an FHA mortgage."
The Fannie Mae HomeStyle Renovation mortgage is a better option for some buyers of the fixer-upper. Bankrate tells one potential fixer-upper buyer that this financing option, "allows borrowers to include financing for home improvements as part of a purchase or to refinance an existing home."
You need a higher credit score than the 203(k); however, the Fannie Mae HomeStyle Renovation offers an ideal option for some people wishing to turn a fixer-upper into their dream home.
You are more likely to get approved for this financing program if you let a contractor do the work and save your do-it-yourself ideas for another project, unrelated to purchasing the fixer-upper. Lenders tend to frown on approving a Fannie Mae HomeStyle Renovation for the DIY buyer.
You can turn a fixer-upper into your dream home. Financing programs available to homebuyers make buying a fixer-upper easy and prevents you from having to pay all the costs up-front, out of your own pocket.
Jodi Bakst, a Certified Luxury Home Marketing Specialist and Broker Owner of Real Estate Experts based on Chapel Hill, North Carolina, is not only an out of the box thinker, she is trained to showcase and sell executive homes