Choosing appropriate flooring for industrial premises needs to be approached with care and skill; it can be a difficult and crucial decision for any facilities manager. Flooring is one of the most important elements of your premises as it is exposed to continuous stress every day. An incorrectly specified floor could lead to high replacement costs later on, not to mention the financial damage from the disruption caused to operations.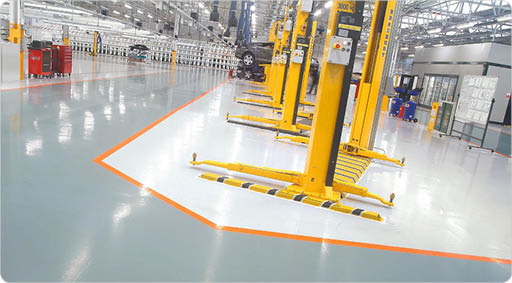 Choose your industrial flooring contractor wisely. At Resin Flooring Ltd, for instance, you will the get the benefit of 40 years' expertise and a highly skilled team of technical advisers and installers who can guide you through the entire process. A competent resin flooring contractor should be able to provide full written specifications, detailed production and cost sheets and full method statements. Of course, they should also be able to offer a wealth of professional advice on suitable finishes for your specific business environment.
When it comes to choosing the right product for your industrial flooring requirements, the commercial marketplace is awash with credible manufacturers. To help you with informed decision making, we've chosen to showcase four leading suppliers of industrial flooring solutions.
Remmers are a leading supplier of synthetic floor, concrete, wood and façade protection products to customers across many construction and industry sectors. With a reputation for quality and expertise, the versatile product range offers system solutions for any specific business requirement, and coatings can be installed on virtually any substrate.
Flooring products offered within the comprehensive product portfolio include floor seals and primers, coatings, flow systems, screeds and binders, fixing layers and seal coats, anti-static systems, repair products, flakes and aggregates, decorative systems and comfort floors. Solutions are also available for car park and balcony decking, waterproofing and damp proofing, hygienic wall coatings and wet room systems.
For over 30 years, Resdevhave been manufacturing a wide range of high performance resin floor and wall systems to a fast growing international clientele; the company is a founder member of FeRFA, the Resin Flooring Association.
Resdev are a supplier of specialist seamless, hygienic, epoxy and polyurethane resin flooring systems. The Puma product range is classified into the 8 FeRFA types in accordance with BS 8204 Part 6. Products are manufactured to exacting standards for a variety of industry application such as food & drink processing plants, warehousing & logistics, printing facilities, car manufacturing, office and commercial premises, healthcare and pharmaceutical installations, and car parks.
Resdev's comprehensive portfolio includes primers, damp proof membranes, high build coating, sealants and maintenance repair products, heavy duty polyurethane screeds that provide superb chemical, abrasion and impact resistance, flow applied and self-smoothing compounds, and specialist designer flooring systems.
With a 60+ year track record as a leading premium supplier of specialist flooring and building materials all over the world, ARDEX offers high performance system solutions for a wide range of commercial applications.
The ARDEX resin floor range has established itself as a market leader, delivering high performance results in a variety of demanding locations. It is the flooring system of choice for many contractors and clients, including hospitals and school laboratories, airport and railway station terminals, sports and leisure facilities and retail premises.
ARDEX products are designed and developed to provide a totally integrated system solution with advanced performance in a wide spectrum of industrial environments. 26 industrial flooring systems deliver solutions ranging from ultra rapid screeding and levelling to rapid flooring systems for damp floors.
A world leading manufacturer and supplier of high performance hygienic, industrial and decorative flooring products, Altro specialise in safety flooring, resin flooring, smooth flooring and rubber flooring for construction and commercial industries, and safety flooring for the transport sector.
As an inventor of safety flooring, the company continues to operate at the forefront of product design, offering heavy duty, versatile, inspirational and specialist solutions that exceed international safety and hygiene standards.
Flooring products include resin coatings, resin self-smoothing, resin screeds and resin polyurethane systems, as well as resin static control, resin epoxy flow, resin grip systems and resin vertical systems.
Article provided by Mike James, an independent content writer working together with Resin Flooring Ltd, South East England's premier industrial flooring provider.