H2OFitness is one of the renowned and reasonable water rowing machine brand by HealthCare International. HealthCare International is based in Washington and is well known for its remarkable line if health and fitness equipment. Its H2OFitness brand has featured tow water rowing machine models that, despite being less in numbers have gained too much popularity in the market. Both of these models are tremendously affordable and come with a bunch of attractive features. Let's have an exploration on both of water rowing machine models offered by H2OFitness.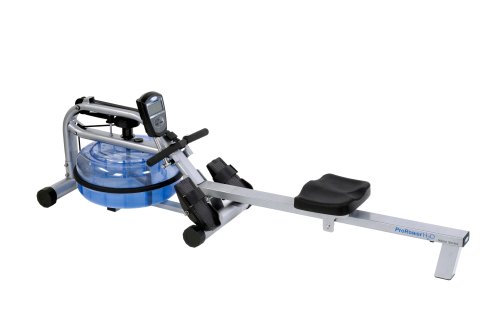 H2OFitness RX-750 Rowing Machine
RX-750 is a home series rowing machine offered by H2OFitness at most promising rate. It works on the basis of same dynamics used by real time water rowing, giving an effective workout for your body muscles. It costs you only $799 for having this amazing fitness Guru at home. Here are various attractive features carried by this RX-750 rowing machine.
Dimensions & Weight Capacity
The dimensions of RX-750 rower consist of 78 x 22 x 20. It is conveniently withstand a user weight up to 350 pounds.
Hydro Power Drive System
The hydropower system carried by this rowing machine consists of internal paddle system and polycarbonate water tank that replicate the dynamics of real time rowing.
Resistance
RX-750 uses the water resistance as a result you need not to manually adjust the resistance level. Water has the capability to adapt the resistance level automatically as per your rowing intensity.
Display Panel
An oversized display panel with this RX-750 helps to track your workout by displaying information like, distance, time, strokes per minute, calories burned, split time etc.
H2OFitness RX-750 Rowing Machine
RX-750 is the club series rowing machine model offered by H2OFitness. It is basically manufactured for commercial rowing workout needs with the capability to withstand everyday heavy use. It comes with commercial use warranty and still costs you just $1049. Its price and commercial warranty are not the only thing that attracts everyone but it offers a great range of features that you will definitely love.
Dimensions
Since it is basically meant for commercial use therefore it comes with a little bit spacious dimensions which consists of 89 inches of length and 29 inches of width.
Resistance
RX-750 carried a solid water resistance that gives a feel of original River rowing. It can automatically adjust the resistance level as per the intensity of your stroke thus eliminating requirement of adjusting it manually. Also its hydro power drive system can contain 4.5 gallons of water.
Weight Capacity
This rowing machine by H2OFitness can bear a user weight up to 550 pounds with the same comfort and effective workout. This weight capacity is sufficient to show its power and strength. Its own weight is 115 pounds.
Display Monitor
Its versatile display monitor helps to keep track of workout parameters like 500 meters split time, workout time, distance, heart rate, calories burned and number of strokes. So you can easily come to know about your workout session record.
Comfort
It comes with textured, wide seat that lets you sit comfortably and workout with full confidence. Also the footrests carried by this rowing machine are its one of the best features. These footrests are non-slip and can be adjusted as per the comfort of rower.
Warranty
This RX-750 rowing machine comes with a life time Guarantee on its frame, 3 years warranty on its mechanical parts and 2 years warranty on its wear parts.
Both of these models exhibit amazing features and even don't demand much cost on their purchase. Therefore acquiring any of these rowers for your fitness needs at such exciting prices will be a smart buy.