As dog owners, we realize that we are fully responsible for our pet's well-being. This means that we must be particular about their veterinarian care, nutrition, and exercise. While we may insist on the most nutritious ingredients in our dogs' food, we may not be as careful with the treats we give them. Some treats are loaded with artificial ingredients that are not good for dogs. If you are concerned with giving your canine friend the best treats possible, here are some highly-recommended ones:
Greenie Lite Dog Treats Teenies
The Greenie brand is renowned for its dental treats that clean dog's teeth and freshen their breath. If you are trying to monitor your dog's weight, then Greenie Lites are perfect for you. They are chock full of necessary vitamins and minerals; plus, they have a scrumptious taste that your dog is sure to love. They are small enough for teething puppies and are safe for daily eating. These are also good for smaller breeds of dogs.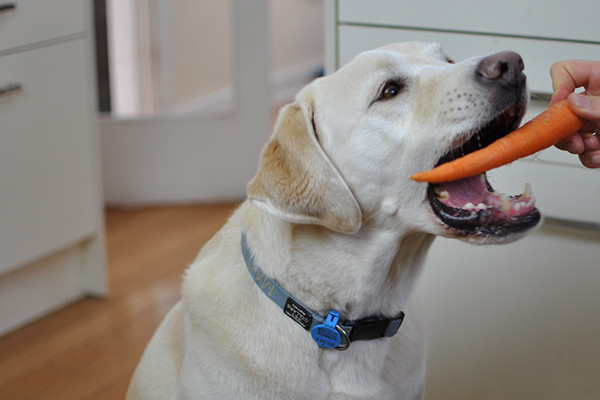 Blue Buffalo Blue Bones Natural Dental Chews
One of the reasons dog owners trust the Blue Buffalo brand is that it is free of wheat, soy, and animal by-products. That is good to know if your dog has grain allergies. Blue Buffalo Bones are a treat that you can give your dog with confidence, because it offers a healthy serving of protein, vitamins, and minerals. These bones have a fresh, meaty taste that dogs enjoy and they get a good dental cleaning each time they crunch on these special treats.
Cloud Star Chewy Tricky Trainers
If you have a new puppy, you know that training and treats are a winning combination. If your dog associates a good behavior with praises and rewards, he is more apt to make it a life-long pattern. Cloud Star Chewy Tricky Trainers is ideal for potty training, obedience, and tricks. They are tender like a piece of meat and do not contain grain fillers that can be bad for dogs.
Since these tasty chews are such a small morsel of goodness, you do not have to worry about your dog filling up on treats. They also are low in fat and calories.
I'd Rather Be With My Dog Paleo Beef, Bacon, & Egg Trainers
Dogs in the wild do not chow down on corn and wheat; so why should yours? These delightful chews combine premier proteins like beef, pork, and eggs in a palatable bite that will make your dog happy. The treats are just the right size for training puppies and are also great for adult dogs. This treat follows the science of Paleo nutrition, which is a proven benefit for dogs.
CocoTherapy Five Star Coconut Banana Foster Training Treats
Just like humans, dogs can suffer from food-related allergies. If you are looking for a treat for your canine buddy and she has allergies, then you should consider CocoTherapy Training Treats. Instead of wheat gluten, these treats are made from flour and oil of coconuts. Your dog's coat and digestive tract will get benefits from this special blend.
Coco Therapy Treats use nothing artificial and do not contain gluten, grains, corn, soy, or added sugar or sodium. Plus, your dog will feel like she is eating a tropical desert when eating these yummy coconut and banana flavored treats!
For busy dog parents on the go, PupJoy is first and only personalized service – tailored to your needs, budget and lifestyle – that helps you reward your good dog and do some good too.