It feels really authoritative to operate the device with enormous possibilities on tip of the fingers. In devices like iPhone where a mere tap on the screen is all what is needed to set the communication with the world and tiding up all the treasured data, also puts forth a tricky situation requiring the same touch to lose all the valued data. Fortunately, to save the users from this predicament in the form of essential data loss, there has been a software developed. FonePaw renders its user the supremacy to retrieve the lost data at any point, which can prove to be a real safety measure, when depending upon an iPhone for more than just making calls.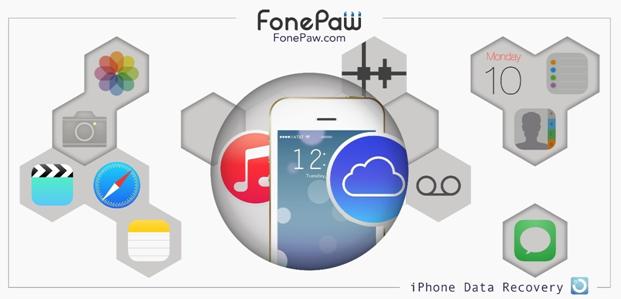 Many a times there has been cases when we unenthusiastically press the delete button, wiping away the text messages, which are important. Now in this case of misery, FonePaw can be of great help, getting back the text messages that needed to be safeguarded in the inbox.
Or in the case of damaged/lost/stolen device, FonePaw iPhone Data Recovery helps a great deal to recover the text messages. Also there are some cases in which text message data appears vanished. Fortunately it is able to recover that as well. It offers three workable methods to retrieve deleted text messages, those are, "Recover from iOS Device", "Recover from iTunes Backup Files", "Recover from iCloud Backup Files".FonePaw as a professional software retrieves data from iOS devices without taking much of the time. The messages are retrieved as CSV and HTML files in the computer having the FonePaw software installed.
How to use FonePawiPhone Data Recovery Software for recovering deleted messages:
Download and Install FonePaw iPhone Data Recovery onto your computer. Run the installed software and connect your phone with your computer via USB cable.
Click on "Start Scan" button after you connect your phone with your computer, the software will start looking for the deleted messages.
After the scanning process is completed, all your iPhone data will be displayed on your screen which includes the lost and existing messages properly listed in categories. You can preview each message one by one. You can also preview the specific content to save time.
Select all the messages you want to recover, click the "Recover" button of the bottom right corner to retrieve all the selected messages. The messages will be saved as .html and .csv files on your computer and the photographs from MMS will be saved in an attachment folder.
Benefits of FonePaw iPhone Data Recovery
Like other recovery software's flooding the market, there is no mark of complications in using FonePaw iPhone Data Recovery for recovering deleted messages. It is easy to operate and user friendly, with no lengthy list of instructions to follow.
Also it has a simplified user interface which automatically minimizes the margin of confusion regarding use of FonePaw.
The ability of its recovery is not merely narrowed to retrieval of deleted messages from the normal working phone only. Even if the device is damaged, or there has been a wiping of data with an update or recovery, or the phone is no longer in your vicinity which means the phone stolen, messages that needed to be safeguarded will be recovered without question.
Also it does not merely stand on recovering deleted texts itself. There is a whole lot amount of data that can find its way back. Now this recovery feature of data of all sorts is worthy of some coinage being spent. From Contacts, Message, Notes, Reminder, Call History, Calendar, WhatsApp History, Safari Bookmark to Camera Roll, Photo Stream, Voice Memo, App Photos, App Video, App Documents etc., there's all this that can be revived if lost out of any cause. FonePaw iPhone Data Recovery is the perfect and best solution for recovering the lost data from your iOS device.