When a student wishes to study abroad, the cost of every service magnifies. Studying in the United States doesn't only include education; it also includes access to advanced technology and learning problem-solving capabilities. USA is famous worldwide for its education system, multicultural population and eclectic cities. If a student resides in USA, the Living cost in USA for international students where he/she lives. The Midwest region of United States is economical as compared to New England.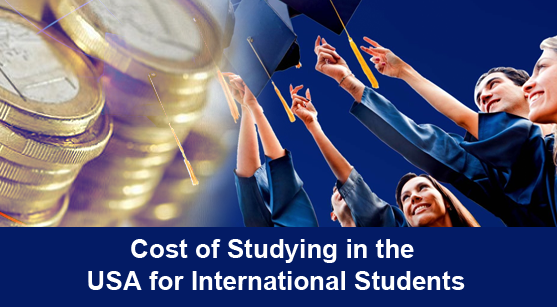 When calculating the living expenses of a student, first point to be considered is Housing and Utilities. An average apartment in the United States ranges from $500 in a rural area to $1,500in an urban area. Below is the detailed description of expenses covered by students residing in USA -:
Electricity – Expenses will range from $50 to $100 per month. If the heating is electric, the cost can raise up to $150 per month.
Gas – Expenses will range from $10 to $15 per month if the gas is used for cooking. If the gas is use for heating, cost will raise up to $50-$100 per month.
Internet – Expenses will range from $45-$50 per month.
Cellular services – Expenses will range from $50 per month to $100 per month.
Other services like water, sewer and trash will cost for $50-$75 every quarter.
For studying in any US university, fees and living costs amount up to US$60,000 per year. Universities in USA offer different courses for their students and have different fee structures. The fees structure can range from $5000 to $50,000 per annum. Below is the estimated tuition fee for different universities in USA -:
Private Institution: $15,000 to $30000 per year.
Public Institution: $10,000 to $20,000 per year.
Community College: $8000 to $12000 per year.
The top courses offered at the United States of America include Data Science, Computer Science, Energy Engineering, MS in Information System Management, Pharmacy, Aerospace Engineering and Biological Engineering. If a student wishes to study in the US, he/she should consider certain points for choosing the accommodation. The points are as follows –
Accommodation will be cheaper in South or Midwest than the West Coast or the Northeast.
Accommodation will be less expensive in a rural or suburban area in the US.
Accommodation will be less expensive on-campus instead of off-campus accommodation.