As the winter season settles in, it's easy just to put outside work on the back burner. But in fact, because you don't have to actually deal with landscaping yet, winter is the perfect time to start planning for the spring, so that you don't end up feeling behind before you even get started.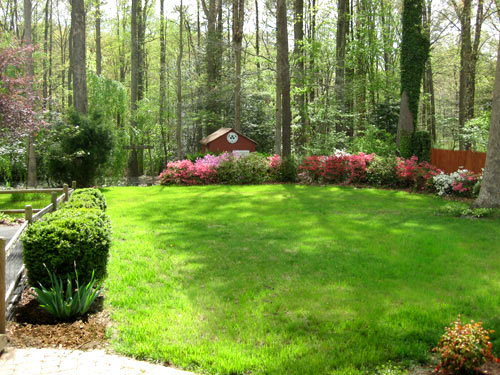 So with that in mind, five ways to spruce up your backyard for the spring, instead of just twiddling your thumbs all winter, are to put in some garden structures, make a plan of attack for edging, start planning flower gardens, get set up to design your fences, and use a few decorations tastefully and sparingly.
Put In Some Garden Structures
Putting in garden structures specifically is something that you can do to get ready for spring. Because they are technically already constructed, and all you have to do is put them in, there really isn't a whole lot of outside work to do. And the benefit of getting them in before spring actually hits is the fact that whatever growth occurs will be around the structure that's already there, because you had the foresight to put it in early!
Make a Plan of Attack for Edging
One of the most irritating activities you'll have to take part in when spring hits is taking care of edging around things like patio stones, sidewalks, driveways, or anywhere else that turf hits more solid materials. But, if you take some tips for edging and just move them up a few weeks, so that you're dealing with those rough edges at the end of winter, then you'll feel like you're ahead of the game.
Start Planning Your Flower Gardens
And what better time to start planning your flower gardens then when there is a completely blank slate? Even if it's cold, even if it's snowing, spot out where you want your flower gardens to be. By doing this, you might even do some general clutter cleanup in those areas to prevent yourself from having to do it all at the same time later.
Set a Design for Fencing
And fencing can be a beautiful part of any backyard, so start planning during the winter seasons for any changes or additions that you're going to be making in the spring. Whether it's a decorative fence, a practical one, a fence to keep in animals, or a privacy fence, if you establish your plan of action earlier, you'll have a higher rate of success.
Use Decorations Tastefully
And finally, there are winter decorations that you can put up, even post Christmas and New Years. If you're backyard seems barren, add a few tasteful mirror balls and it will brighten things right up!