Perhaps it's a bit early to start thinking about putting away all those decorations that you've probably just put into place. But with a little preparation and the gathering of a few key items over the course of the next few weeks, you can save yourself a lot of extra work next year.
Here are some easy ways to detangle, de-clutter, condense, and protect all your Christmas decorations.
If you take the time to stow decorations properly after the busy holiday season passes, next year will be easier;
The Tree – If you have an artificial tree; you want to make sure that it is stored well, so it continues to look great year after year. The box that the tree came in can be used to repackage it, but it can be a challenge to fit the tree back in after it's been fluffed. Old belts can be used to wrap around the tree, making it a more manageable storage size. You could also purchase a tree storage bag, which usually have wheels on the end, making it easier to transport.
If you have a real tree: if you've had the tree delivered, some companies will collect the tree free of charge and recycle it. Local councils often arrange special collections of 'real' trees in early January and advertise the dates this will take place with any other changes to collections over the Christmas period. Trees are usually shredded into chippings which are then used locally in park or woodland areas.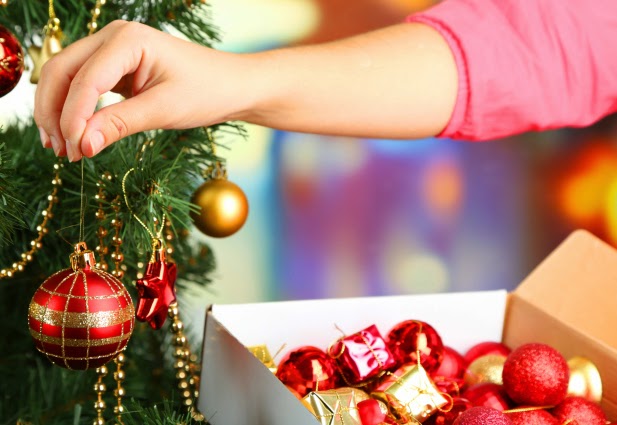 The Baubles – To protect your delicate Christmas decorations, some of the supplies we recommend are plastic bags, masking tape, flat shirt boxes, small cardboard boxes, tissue paper, egg boxes, and plastic tote bins. There are lots of specialized organizing bins in shops right now, but you probably already have most of the items you'll need around your house, so save your money and use some of these recycled options.
Layer small and flat ornaments with tissue paper in the flat shirt boxes to keep them protected. The glass balls can be wrapped or separated with tissue paper before packing them into small cardboard boxes or plastic boxes, and the really small ornaments can be kept protected in egg boxes.
The Wreath – You can purchase 'wreath boxes' specially designed to protect the wreath whilst it's stored away or for an easy option trysliding the hoop of the wreath over the neck of a coat hanger, then cover with a plastic dry cleaning bag to prevent a year's worth of dust from building up. Hang in a cupboard or from a beam in the attic.
The lights –What is the one thing that takes the longest to do and is the most frustrating part of putting up the Christmas tree? The lights! To avoid having to de-tangle the lights next year try cutting some heavy pieces of cardboard into a rectangle that is about 12 inches by 6 inches.  Take a pair of heavy duty scissors and cut a notch on one side so you can hook one end of the lights into the notch.  Then start wrapping the lights around the cardboard.  When you are done wrapping you can check to see where the end of your cord is and then cut another notch along the side to attach the end of the cord. Another option would be to use a coat hanger, wrapping the lights around it.