Srinagar is famous for its vast beautiful lakes, dreamy Mughal gardens and ancient places of worship, but Gulmarg will still manage to carve a special place in your memory. This heavenly abode might be the reason why the entire appears so dreamy and soothing. Is staying at some of the most beautiful resorts and hotels in Srinagar is your Kashmiri utopia, then you're missing out on something remarkably beautiful.
Gulmarg is touted as one the best skiing destinations in Asia. Located at the Pir Panjal Range, this beautiful valley remained untouched for several decades. Seeing the huge tourist influx, the governmental authorities finally decided off to open the area for adventure and recreational activities. With tourists activities happening all year-round, Gulmarg also have several attractions to explore.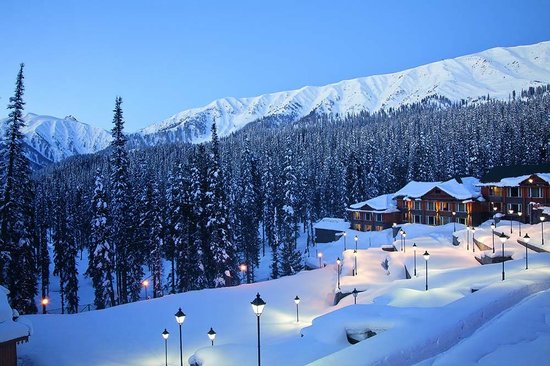 Gulmarg was marked a summer retreat and a ski club during the British rule. Post independence, the ski club was turned into a high altitude warfare training academy for the armed forces.  It's quite near to the disputed international borders, but fret not, your trip will always be under the watchful eyes of the brave soldiers of the Indian army. Each year, thousands of people visit Gulmarg for some exciting adventure activities on the foregrounds of the mighty Himalayas. There are several groups conducted winter sports like, skiing, bungee-jumping, snow-boarding, jet-ski rides and sledding. If you're a little short-breathed or afraid of altitudes, go for a calmer horse rides or simply have fun throwing snowballs on your friends! On any weekend, you can spot experienced and renowned international skiers enthralling the crowd with their skills. On clear days, you can also enjoy winter sports organized by big names in adventure sports like, Red Bull.
During winters, as snow engulfs the entire region under a white sheet, you can spot some rare plant and wildlife species like the golden Himalayan eagle and the snow leopard. Don't be disappointed if you can't, because the enchanting view of the valleys down below will surely captivate your mind. Apart from the adventure tourism, Gulmarg is famous for other attractions like Baba Reshi village, which is named after the Sufi saint Baba Payam Uddin Reshi and is a great place to explore the local culture. You can take a cable car tour to the nearby village of Khilanmarg and enjoy amazing view of the valley. For the religious lot, the Maharani Temple, dedicated to Shiva and Parvati gives a mystical approach to the entire tour. Kongdoor or Kongdori is another beautiful valley situated few kilometers apart and is also a famous a skiing destination.
So if you're planning a trip to this enchanting place in Srinagar, it's better to make appropriate arrangements before hand. Don't forget to check travelogues and blogs from other travelers. A regular Delhi to Srinagar flight can be boarded to reach the Kashmiri capital and then your can either hike or take any local transport to reach Gulmarg.