Not all households have spacious bedrooms. Some just have a room sizeable enough to fin in a few items and furniture set.
Did you just say that you are among those folks who have this kind of limitedly-spaced room?
If you said 'yes' to that, you should know that bunk beds can be the best solution for your problem.
Aside from the fact that you or your kids will have a comfy bed to rest onto, you will also be able to add an extra furniture into your room while still making it spacious enough for free movements.
But before you rush into the furniture shop and purchase this type of bed, here are some things you should consider: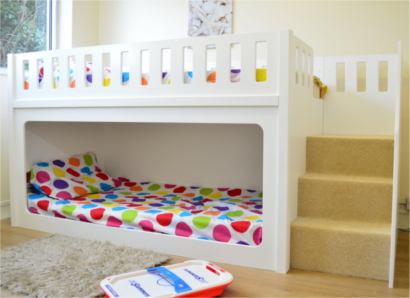 Versatility
One of the main purposes of using bunk beds is saving spaces. With this being said, you need to pay close attention to the versatility of the bunk bed you are about to purchase.
Do you prefer the one that can it be separated into individual beds?
Most homeowners want this type as compared to those that have fixed metal frames.
With this kind of bed, you will be able to adapt to different situations, for example, growing up of your children or modification in your room's overall theme.
Spaces in between bunks
This is another consideration that you should keep in mind. Needless to say, children really love to play on top of their beds. At times they would jump up and down – to and from the bed. In this case, you should pay close attention to the spaces in between the bunks.
Bunk beds that you should purchase must have large gap in between bunks, especially when your kids are those that loves jumping and playing on top of the bed. This way, when they are on the bottom bunk, they won't bump their heads everytime they stand up.
It might be not as important as compared to pricing; however it is definitely something worth considering.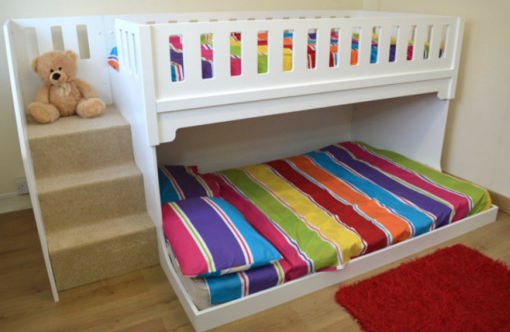 Height of Bunk Beds
You cannot just buy any bunk beds that captured your interest because of its attractive architecture. You should assess the height of the bed that you are about to buy.
Having said this, it is important that you have an idea about the height of your room from the floor to the ceiling.
Otherwise, you might end up purchase a bunk bed that nearly touches the ceiling. You would not want to see your child sleep on that kind of bed and then wake up the next morning with head injury.
Cost
Let's face it. Budget is among the biggest deciding factors why you chose to buy such type of beds. Bunk beds can cost as low as $ 150.00.
However, do not be lured by the cheap pricing. You should still check its stability and reliable framing so as not to compromise your family's safety.
So you plan at buying a new bed soon?
Consider bunk beds and see how your room's space can become significantly wider.