Marble kitchen worktops are very popular in London for their timeless beauty, and resistance to stains, scratches and daily wear and tear. In addition, there are plenty of options to choose from when it comes to colour, texture, pattern and shade. You can find a wide array of choices in both natural and engineered marble worktops in London.
Despite this popularity, there are several myths related to marble worktops. Let us discuss some of these common myths and why these should be best if ignored.
Myth 1: Marble worktops are high maintenance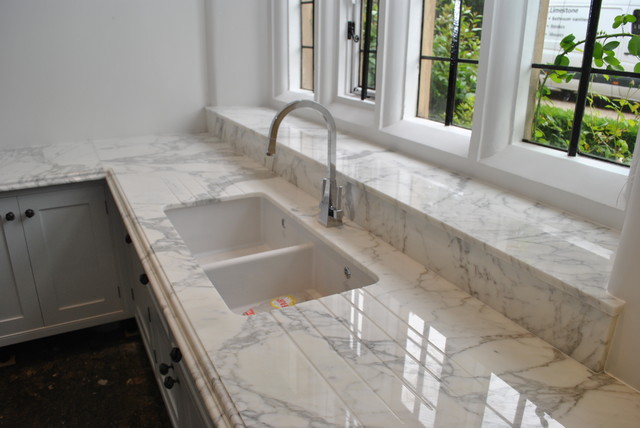 One of the most common misconceptions about marble work surfaces is that these require high maintenance in order to retain their elegant, bright look and tone. This is far from reality as the only maintenance required for marble surfaces is some gentle cleaning using little bit of warm water and mild soap. In most cases, a damp cloth does the work without the need for even any detergent or soap.
Marble worktops from reputed brands are thoroughly sealed to keep stains from penetrating deep down into the pores. High quality professional sealing if done once is sufficient for the life of the marble countertops for at least a couple of years to come.
We see that marble maintenance is fairly simple without any hassles. There are just some 'Do's' and 'Don'ts' that you need to follow to keep your marble kitchen worktops beautiful for years:
Use only soft cloth or sponge to clean the surface.
Clean spills (such as sauce, wine, vinegar, fruit juices, coffee, sodas etc) immediately preventing them to penetrate deep into the pores.
Use coasters under glasses, bottles, and cans.
Don't use strong detergents or cleaners on the marble surface.
Don't use acidic products like lemon juice, vinegar, soda, etc to clean the marble worktops.
Myth 2: Marble is vulnerable to day-to-day wear and tear when used as worktops
It is true that marble is a relatively soft stone when compared with granite. However, this does not mean that marble worktops get easily ruined with daily use. In fact, engineered marble kitchen worktops are highly durable and can easily withstand day-to-day heavy use and impact. These are also resistant to fire, stains and scratches. The natural veins on marble surface conceal any dull area that is a result of some etching, scratch or stain. Only in certain light and at some particular angle, these marks are visible.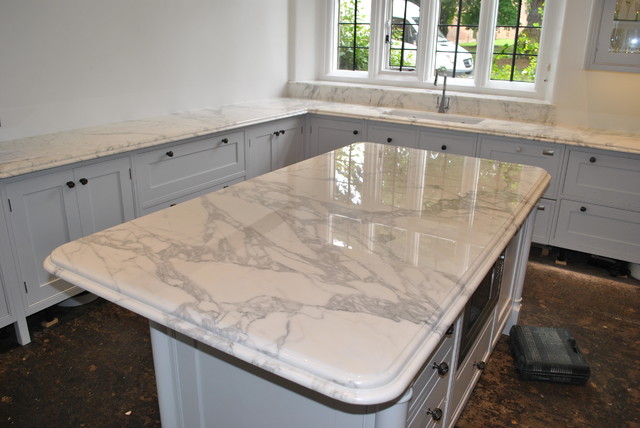 Myth 3: Marble is expensive and not ideal for household use
The cost of marble depends on a number of factors such as availability, texture, finish and porosity. Not all marbles are expensive. For instance, Carrara marble that comes with finer, lighter veins looks similar to some expensive marbles but is available at very affordable prices. Households can choose from a wide range of marble worktops in London without spending a lot of money in the process.
So, keep all your worries aside. Choose a beautiful marble worktop for your kitchen from a comprehensive range of beautiful colours, textures and patterns to suit your taste and budget. However, we always recommend you choose a reputed supplier that deals with leading brands of marble kitchen worktops in London.