Winter is an especially difficult time for maintaining your home plumbing system, and it's important to be well researched and prepared before the worst of the temperatures and weather hit. Here are a few simple ways to keep your plumbing system up, running, and free of any damage during winter – and how to do so without breaking the bank in the process.
Fight Frozen Pipes
Frozen pipes are some of the costliest and most inconvenient problems to have during the winter months, but fortunately, they're also one of the easiest to prevent. To keep your pipes up and running even in the coldest temperatures, wrap exposed pipes under your sinks in insulating foam, available at your local hardware store.
You can also leave the cupboard doors to those pipes open, especially at night, as this helps the air circulate around the pipes. Finally, leave your tap dripping slightly when you go to bed or leave home for an extended period of time. This will help keep the water circulating in the pipes and prevent unwanted still spots in the plumbing, which can encourage freezing and burst pipes.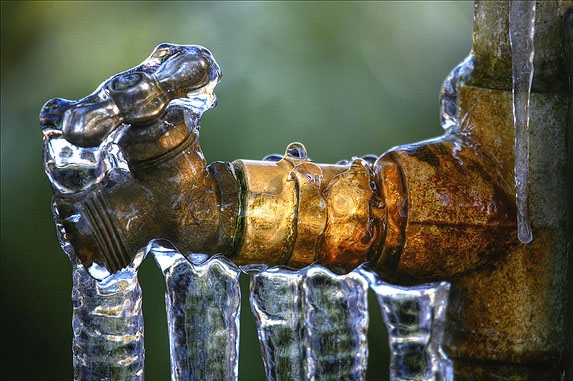 Check Your Sump Pump
A malfunctioning sump pump can flood a basement, and any flooding can lead to extensive damage. There are plenty of horror stories of people being away for long periods of time, only to come back to a basement that's not only flooded, but also frozen over – don't let this happen to you! Check your sump pump as soon as possible an continually throughout the winter to make sure it isn't being blocked by snow or frozen water – if its drainage area contains either one of these winter staples, clear them out immediately and keep a close eye on them throughout the rest of the season.
Keep Your Temperature Up
Keep your home temperature around at least 55 degrees to make sure that you're keeping air fresh and warm enough in your home to discourage freezing pipes. All the dripping tap water and open cupboard doors in the world won't help if your home is too cold to begin with – make sure you've got the thermostat set to a point where water won't be freezing and you won't be seeing your breath.
Put Outside Hoses Away
Now's the time to roll up and store your hoses, as well as shut off and drain any spigots that may be outside. This is an easy step to forget and can lead to some nasty repair jobs if neglected; take the time to clean up the spring and summer equipment now and make sure it doesn't come to bite you in the winter time.
Watch Your Cooking
Winter brings with it many holiday celebrations and special types of cooking, and the grease and fat left over from this cooking can do a number on your home plumbing. Make sure you don't pour fats and oils down to drain, run cold water through the disposal for 20 seconds before activating, and avoid putting tough or stringy objects in the disposal, and you'll be setting yourself up for success.
Winter Preparation
Winter is a difficult time of year for plumbing, but with some planning and action, much of the risk can be alleviated. Take some time and winterproof your home plumbing – you and your wallet will be glad you did!
Charlie Teschner started MESA Plumbing, Heating, and Cooling in 1982. Charlie has a journeyman and master plumber's license. He was raised with a strong work ethic and he now applies those values to tasks such as Longmont, CO heating repair.