Mac users would know what it feels like to receive yet another mail with an attachment in RAR format. What do you do if OS X default archive utility just does not support this archive format? Start looking for a third-party archiver that will enable you working with files in RAR and other archive formats.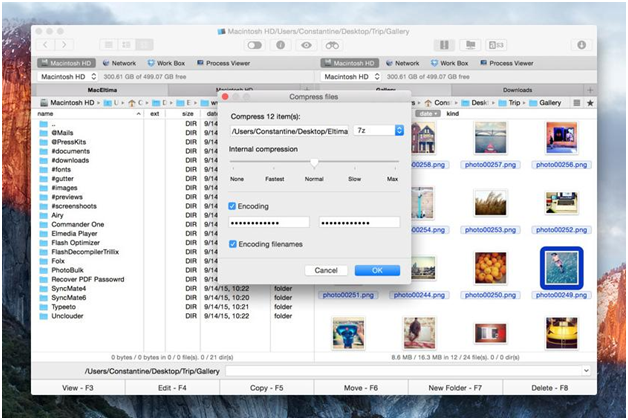 We recommend Commander One as a great archive utility for Mac. It supports a wide range of formats, including ZIP, 7Zip, TarGz, TBZ, RAR and more. You can extract and compress files in any of these formats. The only exception here is RAR, Commander One does not compress in this format, however according to Eltima Software, the app's developer, this will be fixed in the near future. The app allows viewing archived files in a folder – you do not need to extract them to do it, and managing them by deleting or adding files into archive.
Not only Commander One enables you to work with archived data, it also can serve as a great alternative to Finder, the default file management solution for Mac. Commander One performs all file management operations such as copy, delete, move, rename, etc. quickly and efficiently. It is also capable of queuing such operations and executing them one-by-one so it does not affect your Mac's performance. A clean and intuitive UI is a bonus Commander One offers to its users, it has two panes where you can open an unlimited number of tabs for browsing.
Here are some highlights of Commander One functionality:
Work with archives – view archived data in a folder and manage it without extracting it, extract and compress files
Manage files and folders – open, copy, delete, rename and move with the help of 'drag-and-drop' action
Rename files while moving them to a different location
Queue file management operations for better performance
Search with the help of regular expressions
Search files contents
Utilize Spotlight search integration
View files in any of the three modes in an unlimited number of tabs
View hidden files in a matter of click
Use hotkeys to perform operations
Navigate to recently visited and favorite locations with the help of History and Favorites
Select a program for opening specific files
List computers detected in your network
Transfer files between computers with the help of FTP Client
Change file permissions via FTP, SFTP, FTPS protocols
Access data on mounted iOS, Android devices and Dropbox account
Integrate a Dropbox account – or rather several of them – and share links directly from the app
Get more information on Eltima Software site.