Children's charity East Coast Truckers has come to the rescue of a 5-year-old autistic boy after his family's artificial lawn was stolen from his sensory garden at home in Sprowston, Norfolk, in September. Carl Smith and his family were due to be moving house shortly and the artificial lawn from his old house had been pulled up and laid in a roll in the garden whilst they waited for it to be installed at their new property.
However, thieves stole it before this happened. Unfortunately, the Smiths were financially unable to shell out for a replacement piece of turf, meaning that Carl would have been without the soft grass which helped him to play outside all year long.
Luckily, the truckers charity, who raise money for disadvantaged children, heard of this upsetting incident and decided to donate the money for a replacement piece of lawn for his new garden. Carl will still be able to gain the sensory benefits for his condition that the turf provides.
Who Would Steal Artificial Lawn?
There has been a considerable rise in the number of artificial grass purchases in recent years, as gardeners favour the low-maintenance approach to looking after their lawns. In August this year, a pensioner had her lawn stolen, a few years ago a family had their front lawn stolen, and in March of this year, thieves were caught on camera stealing artificial grass from outside Home Choice Carpets, in Norton. These are just a few of the cases that have attracted the attention of the press.
As the demand grows for companies who are able to install the turf, unfortunately a large number of unscrupulous types are to be found amidst the well-respected workmen who specialise in artificial grass installation. It is possible that the Smiths' lawn was taken by rogue installers looking to cut costs by stealing raw materials and therefore undercutting the prices of their rivals.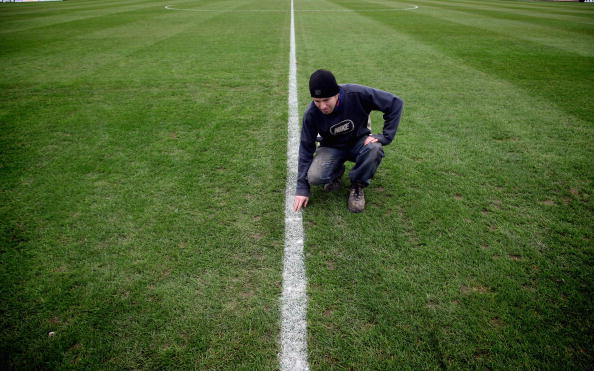 Hire a Reputable Artificial Lawn Installer
If you're thinking of getting an artificial lawn for your garden, it is so important to shop around and make sure you hire honest artificial grass installers to carry out the work. Even if it seems like a reputable firm is going to charge more for the job, it's worth spending the extra so that your lawn is installed correctly and will therefore last longer.
How To Ensure The Job Is Done Correctly
For those of you who know little about the mechanics of how an artificial lawn is installed, you should quiz any prospective firms about what their service entails. Low quality installers will do minimal preparation work and this can leave a lawn which is lumpy. This is both unpleasant to look at and potentially dangerous as you could easily trip up over creases in the turf.
On the other hand, a quality installation involves the top layer of soil or lawn being removed by specialist equipment and subsequently replaced with a base layer of chippings or sand, which is then levelled to create a flat finish. A weed barrier membrane is then applied to ensure no unwanted growth occurs beneath the turf and finally the lawn is laid on top, secured by a wooden frame.
Artificial lawns are convenient for homeowners – not only do they provide the opportunity to enjoy a garden all year round, but they are also extremely low maintenance. However, if you are considering installing manmade grass then do your research and only hire reputable installers with a proven track record so that you end up with a quality lawn that your family can enjoy for many years to come.
Lee Tombs is the Founder of Artificial Grass Installers. With over 10 years of experience, Lee and his team have installed artificial grass in hundreds of homes across Essex, London and Hertfordshire.