Advanced Cardiovascular Life Support training programs, widely known as ACLS are the result of hard work of American Heart Association (AHA). Every five years, AHA introduces new guidelines for first aid and different life support courses. The latest recommendations were released in 2010, with a new set of questions and answers of ACLS.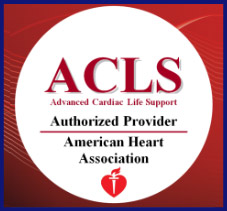 There are two common ways in which one can obtain AHA approved ACLS certification – offline and online. Here we have listed a breakdown on what is required to obtain the ACLS certification and how can it be obtained.
Obtaining ACLS certification offline:
This is one of the easiest and safest ways of obtaining ALCS certification San Diego CA. You have to attend program classes in your local area. Several hospitals make the course available at discounted prices for their employees. However, if you are not working at a medical facility yet, then you can always go through your local directory and find such educational facilities that offer classes for BLS, ACLS, PALS and other such courses.
Fees of these classes are usually around $ 150 to 200. Before you start, always check with your education department if there is any way out to reimburse the fees amount.
When you are looking for classes in your local area, make sure that you ask whether the certification is AHA approved or not. Most of the medical facilities and hospitals will recognize and accept your certification as genuine only if it is AHA approved.
Obtaining ACLS certification online:
When opting for online ACLS certification, make sure that you do so with great caution. The simple reason behind this is that most of the sites offering ACLS programs do not offer the ACLS certification, which are AHA approved. Also, there are several sites, which will state that their course is "recommended by AHA physicians" or "approved by AHA physician", but ultimately these are not the genuine ones.
Genuine sites, which provide AHA approved ACLS certification, will always mention so right up front. It is like a marketing tool for them and thus, they will make sure that you know that they are approved.
Next, AHA also offers online ACLS programs CD known as "HeartCode ACLS Part 1." This is a self-directed learning program published by AHA. There are two parts of the program. Part 1 is the CD, which covers the entire curriculum of ACLS program. You can refer it at your own convenience. Part 2 is practical skills evaluating sessions. These sessions are mandatory and will cost you around $50.
Once you have taken the classes, offline or online, you will have to appear for ACLS program examination. The examination will test your talent and skills concerning ACLS program. Every course will allow you to take 3 retakes before you have to go through the entire course again and 80% score is necessary to clear the examination.
Once you receive the certification, remember that it is not permanent. ACLS certification will need renewal every 2 years and again this can be done offline or online as per your preference.
ACLS certification is a perfect way to enhance your knowledge as a healthcare professional. It will train and prepare you to perform advance resuscitation procedures, especially in case of medical emergencies.