Nothing says rocker chick more than leather; leather pants, leather motorcycle jackets, leather boots, leather skirts, leather shorts, leather vests, leather tops and even leather dresses. According to the Urban Dictionary, a rocker chick is someone who lives or loves the rocker lifestyle. They are the girls whom you would find at heavy metal concerts. They are not groupies, but tend to be attracted to rock guitarists with long hair. Rocker chicks exude an air of confidence and freedomprobably because they know they look good in their leathers and are not afraid to express themselves. That could be why many of us ordinary folks consider rocker chicks to be cool. It used to be that such leather ensembles were mostly worn by these rocker chicks, but thanks to fashion designers like Calvin Klein, Hugo Boss, Versace, Christian Dior, Celine, Derek Lam, etc. and celebrities like Halle Berry, Kim Kardashian, Jennifer Aniston, Gwyneth Paltrow, Nicole Richie, Jessica Alba, Kristen Stewart, Eva Longoria, etc., leather dresses are now considered essential attire for ladies who want to look good. However, you will not find leather dresses in a typical suburban shopping centre retail clothing store like Sussan, Suzanne Grae, Katies or Millers. Leather dresses are mostly sold in specialty stores usually in the city. If you don't want to battle the traffic and the crowd in the city, the easiest way is to shop for leather dresses online.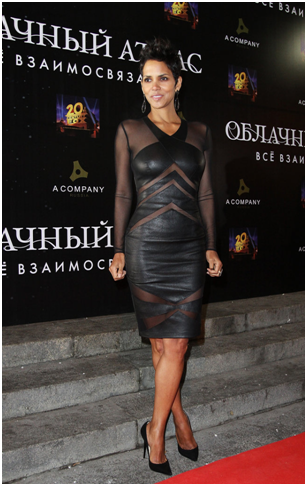 Why shop for leather dresses online?
It is convenient:
You can browse and shop from the comfort of your own home at any time of the day for as long as you want.
You don't have to feel pressured by sales assistants breathing down your neck while you shop.
You don't have to worry about traffic or transportation because you don't have to leave home.
You don't have to worry about battling crowds especially during Boxing Day sale or end-of-financial-year sale.
Online stores usually have a wider range of leatherwear because they also sell to overseas customers.
You can check for stock availability with just a few keystrokes.
Many online stores offer free shipping within Australia and free returns/exchange policies, so if you are not happy with an item, they would be more than happy to accommodate because they are confident in their products and they know that satisfied customers often come back for more.
What leather dresses can I find online?
The range of leather dresses available online is more than just the skin-tight leather dresses we are used to seeing on typical rocker chicks. These days, leather dresses come in many styles, such as simple leather shift dress, fit-and-flare leather dress, sleek knee-length leather tank dress, long-sleeved leather dress, leather mini dress, pleated leather dress, skin-tight cap-sleeved leather dress, leather racerback dress, Versace's black studded coat dress, turtleneck leather dress, mix-and-match leather dress (e.g. leather and fabric) and the list goes on.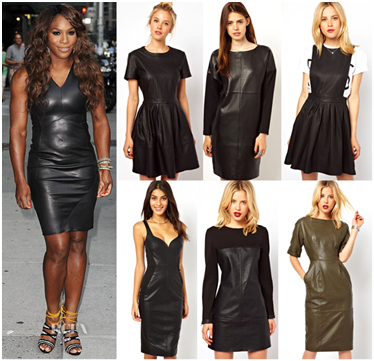 No longer do you have to be the epitome of slim and sexy to wear leather because these different styles make it possible for women of all shapes and sizes to look good in leather. Furthermore, leather dresses are not limited to the stiff leather look anymore. Today's leather dresses are also available in soft aniline leather and are so versatile, they can be worn with any jacket and even layered with a t-shirt. It is definitely a piece of clothing that should be in any fashion-conscious woman's wardrobe.
What if the item doesn't fit?
Some people are hesitant about buying clothing online because they worry that it might not fit them or that they can't return or exchange an ill-fitting item. As mentioned earlier, many online stores offer free returns and exchanges, so no worries there. As far as the right fit, many online stores also have available on their websites size and fit guides for all their clothing items. Customers merely have to know their bust, waist and hips measurements to know which sizes to pick. Besides leather dresses, many of these online stores also sell high-waisted leather leggings, leather skirts, leather tank tops and peplum tops.
Shopping has never been easier than it is in the 21st century with online shopping. Now you don't have to just admire the rocker chicks and celebrities in leather, you can own your own leather dress and look as vavavoom!