Imagine a situation where you are running late for your office and find out that your suit is wrinkled and needs another round of pressing. This is a fairly common day to day picture, isn't it? This problem would not remain a problem if we can iron our clothes the night before and find a suitable place to hang them so that the fold and the crease remain intact. Closets and wardrobes are not the ideal places as they are too overloaded and any attempt to place your perfectly ironed clothes in them can prove to be unsuccessful. The meager space in your already overcrowded closet will not be enough to accommodate the freshly ironed clothes and preserve the folds till next morning. However, there is a solution. The single piece of furniture that can save us from this trouble and make sure our clothes stay the way they are, is nothing complicated, but something as simple as a valet clothes stand.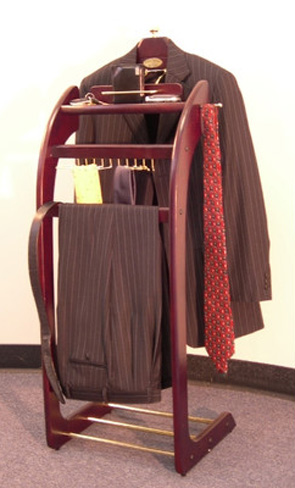 How popular is a Valet Clothes Stand Today?
Valet clothes stands were popularly used in the 1800s till the middle of 1900s when men dressed more in suits and purchased expensive clothes to suit their taste. At that time for people belonging to upper and middle class, purchasing a valet clothes stand was mandatory.
After the middle of the 1900s, the popularity of valet clothes stand were on the decline as suits and other expensive clothing for men were not so popular.
In spite of the decline in use, the fashionable men of today, who are more into suits than casual wear prefer to use a valet clothes stand for keeping their clothes in crisp condition.
Though valet clothes stands are not as popular as they were a century back, quite a considerable percentage of the young generation who find it not a good idea to keep their clothes hanging from hooks or laying them on the back rest of chairs, still go for valet clothes stands.
Varieties of Valet Clothes Stands
They come in different designs. They can be very simple yet elegant; on the other hand they can be very elaborate. The simplest ones are meant for keeping only clothing like suits, blazers, jackets, trousers, etc. with no provisions for jewelry or other accessories.
The valet clothes stand with elaborate designs are meant for storing a variety of garments and accessories. They include hat stand, coat hangers, tie bar and compartmentalized jewelry caddy which are meant for small precious accessories like expensive watches, cufflinks, etc. The elaborate ones even can be customized to include a chair and additional drawers for added comfort in dressing.
In general, wood is predominantly used in valet clothes stands. The well to do upper and middle classes often preferred expensive wood like mahogany, oak, etc. Cheaper ones are made of rubber wood, rosewood and other varieties of not so expensive wood.
Light metals like aluminum and metal alloys are also used. They are light, easy to move and they are comparatively cheaper, but in terms of class and elegance, nothing can beat the old antique wood valet clothes stands.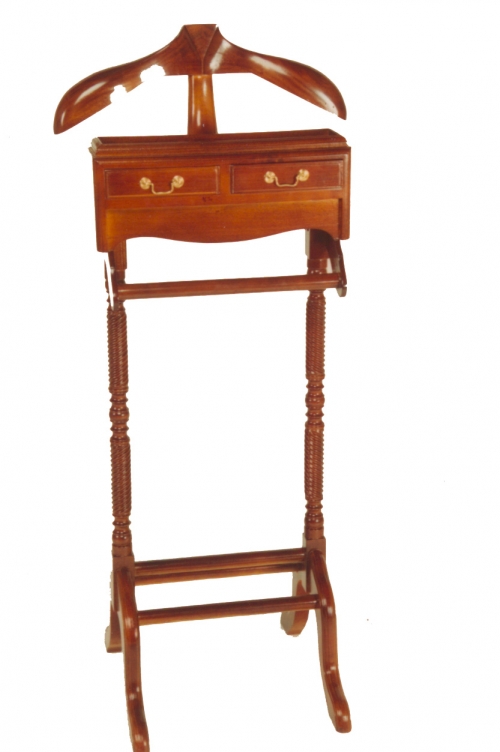 Tips to Buy the Best Valet Clothes Stand
It can never be refuted that the best and the classiest valet clothes stands were made and used about a century ago. Not only were they durable, but were stylish with an old world charm. No doubt they were expensive then and are even more expensive today. Be prepared to shell out more money if you want a great valet clothes stand. They are available at antique furniture stores and you can even manage a discount if you are good at negotiating.
The modern ones, a little cheaper than the antique ones can be found online or at any other furniture store.