From its incredible durability to the wide range of styles available to choose from, tile is a material that offers many benefits to homeowners. There are numerous types of tile available to choose from, and these range from natural stone tile to ceramic, porcelain and more. Cement or concrete tiles are another option available to homeowners, and these are becoming increasingly popular because of their unique benefits. With a closer look at the benefits that it provides, you may decide that cement tile is the right option for your upcoming home improvement project.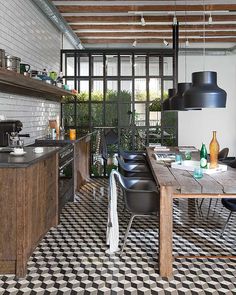 Suitable for All Tile Projects
Concrete or cement is a durable material that holds up well to regular use, is weather-resistant and generally will not chip or shatter if something is dropped on it. Because of this, it is ideal for use in both indoor and outdoor environments. It can be used with just as amazing results in a shower or near a fireplace as with a kitchen back-splash or on a patio. It can be heavier to use, so it is commonly used on floors, but it can be modified for use on back splashes and other similar areas.
A Full Range of Design Options
When you purchase tile in a local store or showroom, you typically are limited to standard squares with a uniform color or pattern. With concrete tiles, the material can be created to have any look that you desire. You will have greater flexibility with regard to the style, color and shape of the tiles. In addition, you can create imprinted patterns and designs or even make use of three-dimensional tile shapes for dramatic flair. There are incredible possibilities that you can bring to life through the use of cement tiles, and these possibilities are usually not available with other types of tiles.
Customized Color Options
When you shop for tile in a local store, you also are often limited by the color choice. You may, for example, be struggling to find the ideal shade of tile to complement carpeting, paint colors or other features that are already in the room. Cement tile can be customized precisely to meet your needs, and the options range from neutral shades to bright, vibrant tones. You do not have to settle for something that is not quite right when you choose cement tiles.
The Affordable Price
There are many factors that will influence the cost of your cement tiles. For example, how detailed your design order is as well as the size of your order may have a large impact on the pricing. Generally, concrete is a rather affordable material to work with, but you can add design options to it that will increase the cost. When you do a dollar for dollar comparison on materials that have a similar look as the cement tiles that you are thinking about ordering, however, cement tiles are generally more affordable. When this is taken into account with the durability of cement tiles, it is clear why this is a preferred material for many.
Homeowners who are thinking about completing a tile installation project should spend time comparing the pros and cons of different materials initially to make an informed decision that is best for their home. With a closer look at what cement tiles have to offer, many homeowners will make the decision to incorporate this material into their homes.