The versatility of vertical blinds makes it suitable for use in any size of windows, big or small, with special preference for bigger and wide widows. Using these in bigger openings brings out the beauty of these window dressings that have been made more sleek and attractive to meet the tastes and style of modern living. No longer need to deal with the metal slats that are noisy and not as much attractive. Vertical blinds have undergone a complete makeover as new materials have been introduced to enhance its decorative value without compromising on the functional aspects of privacy and light control.
It is a great way to make a style statement with its designer looks that has considerable architectural value. There has been a marked improvement in technology of these window dressings that moves across windows in complete silence, never letting you feel about its existence. With all these improvements, the benefits of installing vertical blinds makes it's a strong challenger to other window dressings, especially for patio doors and large windows.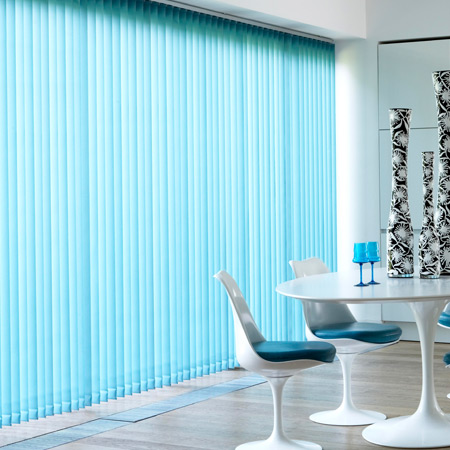 Here is a look:
Cost is perhaps the most important determinant for home decors and vertical blinds are much ahead of its peers in this aspect as it is quite economical. Despite covering large areas, this window dressing is not as costly as it would seem.
Vertical blinds are perfect for those who want to derive a virtual effect for increased height of rooms where these are installed. The long and lean looks supplements the architectural detail of the space where it is installed, making it look more spacious.
It is easy to clean vertical blinds whether it is made of vinyl or fabrics. Using a brush attachment in a vacuum cleaner or a dry sponge is good enough to clean these. If you have faux wood or wood as blinds material then wiping with a damp cloth will suffice for cleaning.
Technology eases operation
Despite bringing change in looks that have become trendier, the operational features of vertical blinds remain the same but technology has made it more convenient for use. The long vanes are hung from the overhead rail with provision for moving the vanes to either side or it can even be a split stack. The functionality of closing the vanes in accordion style with excellent flexibility is achieved by attaching each vane to a sliding piece that sits in the track alongside the head rail. By twisting the wand that is provided to tilt the vanes that are provided with individual self lubricating gears, you control the light and privacy to the level you desire.
The variety of materials, colors, textures and patterns give endless opportunities of style and fashion that will add value to the interior décor. Stylish fabrics that are soft and elegant yet durable with looks resembling draperies can light up the rooms. If you want blinds to match with your flooring and furniture then faux wood or wooden vanes can be the answer.  For reduction of glare and to cut off harmful UV rays of sunlight you can opt for solar material.
There is hardly any other window solution that is as stylish and economical like vertical blinds.