Eassos Recovery Free is developed to help you recover important files and partitions in the event of unexpected data loss. Data loss is a vexing and inevitable issue and it may happen to anyone of us. There are many causes that account for the data loss problem, such as unintentional deletion, hard drive failure, virus attack, file system corruption, etc. Once this problem arises, Eassos software can help you undelete files and partitions from HDD, USB drive, memory card, etc.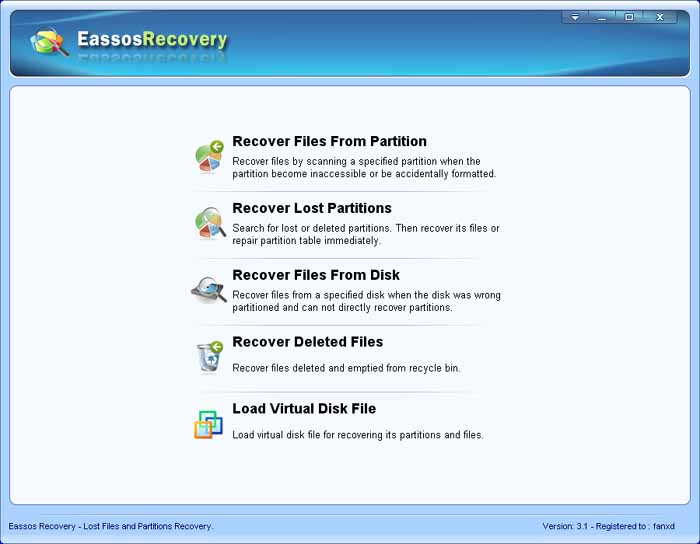 Undelete files from Recycle Bin
This free data recovery software includes the feature to recover deleted files and documents that have been erased from Recycle Bin or removed from USB drives. Deletion of important data by accident is one the most common causes of file recovery. It offers special recovery mode to undelete data and guarantees better recovery results.
Data recovery on failed drives
Eassos software has enhanced its ability to retrieve data from hard drive which is damaged or suffering from bad sectors. Data loss caused by disk failure such as bad sectors still can be scanned and searched for files. When scanning find out bad sectors, the program reports bad sector number and skips this sectors to resume file scanning. This feature is not available on many other programs which may stop scanning process. Since hard drive damage is another major reason of data loss, Eassos Recovery provides more chances of successful recovery from these problems. Otherwise, users will have to send the drive to recovery companies with high cost.
File preview is supported prior to recovery
File preview is provided with the purpose of assisting users in finding out desired data and making sure whether files are recoverable. This feature is available in the free, trial and full version. Till now, Eassos Recovery Free supports preview pictures, photos, documents (e.g. word, excel, text, etc.), audio and video files. Most similar programs do not support previewing of audio and video files.
Save recovery progress automatically
This recovery freeware is capable of saving recovery session by itself and allows users to save it manually. What does this mean? As we all know, recovery process may cost quite long time to complete file scanning if the drive has large capacity and great amount of missing files. You'll have to spend same long time to perform recovery after program is closed if there is no recovery progress is saved or program doesn't support reloading recovery session. Eassos Recovery makes this feature available to save time when users need to restart program or computer.
Operating systems it supports
Eassos Recovery is compatible with all major version of Windows system, for example, Windows 10, 8.1, 8, 7, Vista, XP and server 2003, 2008 and 2012. However, it doesn't support Mac at present. As to file system it doesn't support, Eassos Recovery is able to recover files by file type.
Tech Support
This free file recovery program has an excellent tech support team which provides professional advice, solutions and support for both freeware and shareware. If you failed to find needed information on its site, you can connect support team for help.
In brief, Eassos Recovery Free is qualified to recover lost files and partition efficiently due to its features and support services. Eassos' kind reminder: although data recovery is easy and for free, do not forget to make regular backup for important data.