Dust mop is mainly used for dusting off the dust particles or other loose wastes. This is a special kind of mop that can be easily handled and this is the reason that it serves both domestic and janitorial cleaning. Almost all the modern cleaning experts refer to use this kind of mopping device so that the cleaning process can be highly facilitated and on the other hand you can also save a lot of time and energy.
Dusting mop is nothing but a specialized broomwhich is made of microfibers and this is the reason in spite of regular and continuous usage, these brooms remain unaffected and can be used for a long period of time. These brooms are not that very prone towards damages as the material is quite durable and flexible in nature. These brooms can be stored at any corner of your house and it is also quite easier to clean the dust.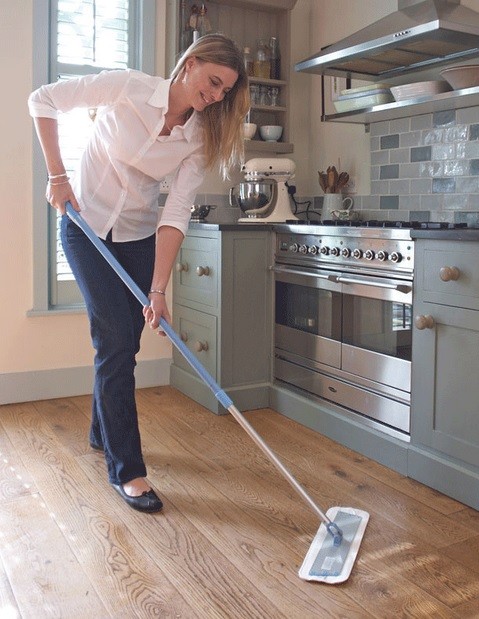 3 Different Kinds of Dust Mops
Though dust mopping sounds like an easy job to do but it actually differs from situation and kind of dust you have to clean on that. Let's check about the various kinds dust moping types which are generally used.
Cut-end cotton blend dust mop:This is one of the cheapest means of dust mopping which you can get in the market. These mops are mainly used for the launderable style of mopping and dusting. But you have to be netted it before mopping the surfaces. The problem which may lies with this sort of dust mop is that you can use this only a few times, because after a few mops the yarn gets flats and failed to attract more dust.
Looped-end cotton and synthetic blend dust mop:This is one of the widely used dust mops which come in two categories – open loop style and close loop style. The open loop style of dust mop is used avidly in the industrial laundry style of mopping and the close loop styleis popular among people for all kinds of dust and dry mopping. These kinds of dust mops are unparalleled due to its many advantages.
Open loop dust mops are superior in picking up dusts cleanly and are a pre-processed so they do not need any chemical treatment to avoid the bacteria spread and so on. It can mop a large amount of dust in a single use and don't snag on in the furniture, sofas or chairs. These mops are made from cotton and synthetic; however, synthetic mop is a much better option and saves time of more than 50% as compared to its peer.
Electro-static synthetic dust mop: this is one of the new avatars among all the dust mopping techniques. They hold a static electric energy which attracts the dusts and hold them very well. This is so far the best dry dust mopping method available.
Except these three micro fiber pads are also becoming very popular as the means of dry mopping. These mops are also very much cost-effective and thus you can easily purchase them.